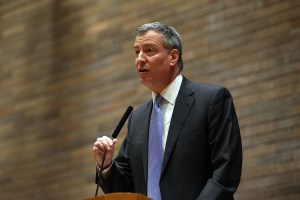 Bill de Blasio, criticized for his "silence" on the high-profile murder of a Hasidic businessman–as well as the ensuing controversy over the New York Post's coverage of the killing–went on the radio waves Saturday night to declare his "outrage."
"I've seen many a headline that was not appropriate," the mayor said, speaking on WMCA's Community Matters program after Shabbos. "This was particularly inappropriate. The family was in pain. The community was in pain."
"It was unfair. It was hurtful. And there is really no place for that kind of thing in New York City," he continued. "I know a lot of people are outraged and I share their outrage."
The Post sparked an uproar last Sunday when its front page displayed the image of Menachem "Max" Stark, a prominent Orthodox Jewish businessman in Williamsburg, with a caption labeling him a "slumlord" and asking, "Who didn't want him dead?" Many elected officials rallied in protest, accusing the paper of condoning his murder; Mr. de Blasio did not, drawing criticism.
"It is especially important for Mr. de Blasio to get involved here. His absence has been conspicuous and disturbing," the newspaper Hamodia editorialized Wednesday. The editorial was entitled, "Mr. Mayor, the Silence is Deafening."
For its part, a Post spokesperson told Politicker Sunday that the paper was simply covering Mr. Stark's allegedly shady business dealings in connection to the slaying. "The Post does not say Mr. Stark deserved to die but our reporting showed that he had many enemies, which may have led to the commission of this terrible crime," the rep said in a statement. "Our thoughts and prayers are with the family at this time of loss."
Mr. de Blasio, vowing to crack the case, also offered sympathy for the Stark family tonight.
"It's a tragedy what happened to Mr. Stark. And my heart goes out for the family and they are in my thoughts and prayers. And I know that for many, many people in the Jewish community this has been a very painful moment and I want I say: First of all, we are going to get to the bottom of it. We will find who did this to him and who robbed children of a father and a wife of a husband," he said.
The late-night radio appearance did not appear on Mr. de Blasio's public schedule.