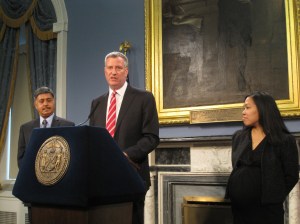 Mayor Bill de Blasio told employees who worked in his public advocates' office that he would take care of them when he moved to City Hall, sources told Politicker before the election.
It seems he made good on his promise.
Mr. de Blasio has brought all but three of the staffers who worked in his public advocates' office as of December 2013 into the mayor's office or other city agencies, according to an archived staff directory and new payroll records released this afternoon by City Hall. That includes everyone from his former press secretary and chief of staff, whose new assignments had already been announced, to lower-level staffers, including several former constituent services associates, who are now being paid to work as transition aides.
Marti Adams, a spokeswoman for the mayor, said it's not surprising Mr. de Blasio would want to bring loyal staffers whom he trusts to City Hall.
"These individuals are the same people who have been working with the Mayor on the same core issues–like universal pre-k and affordable housing–that he has been focused on for years. It is to be expected that he would want to fill his administration with the same talented people who've spent years earning his trust and respect," she said in an email.
More than one-third of the 61 staffers currently listed as working for the mayor's office (or hired and transferred from it) are also listed with positions that include the words "Final Assignment TBD."
The New York Post reported this week that more than a dozen staffers have been working for the city for weeks without assignments, allegedly passing their time goofing around and playing games. But City Hall officials told the paper that–while some staffers had yet to be given final assignments–they have still been working, either for the transition or administration.
Ms. Adams reiterated that message today.
"Our transition staff is at work each day helping to carry out duties for the administration while simultaneously being considered for jobs inside of the administration," she told Politicker. "These individuals will soon be in the administration."
In total, the salaries of those whose final assignments are listed as yet to be decided tally nearly $1 million, the records show.
Additional reporting by Colin Campbell. Updated at 5:44 p.m. with comments from the mayor's office.

View the current mayoral payroll below:
[scribd id=202018079 key=key-1qmbr2iotts6kxy2a99s mode=scroll]