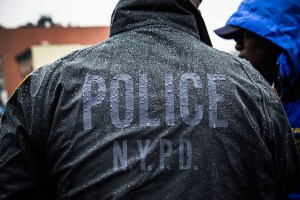 Mayor Bill de Blasio is pleased that his new law department has agreed to pay out $18 million to settle various lawsuits stemming from the 2004 Republican National Convention, where many alleged they were illegally arrested by the NYPD.
"I'll simply say I'm glad the case is settled," Mr.  de Blasio told reporters this afternoon, speaking at a press conference outlining his plan to reduce traffic fatalities. "I have spoken before about my concerns about how that situation was handled at the time and I'm glad we're moving forward."
"We're going to take a very different view going forward on how we respect people's rights to express themselves," added the mayor, who has vowed to wield the city's police force in a less antagonist way than his predecessor, Michael Bloomberg.
The $18-million sum, announced this morning, will be paid out to the protesters, journalists and bystanders who were arrested during the 2004 event where then-President George W. Bush was nominated for his re-election bid. A federal judge will still need to approve the payout, according to the Associated Press.
In a statement, Celeste Koeleveld, a city attorney, heralded "the major victories" in the case.
"We are proud of the major victories we achieved," she said in a statement. "Among other successes, the constitutionality of key police policies used during the RNC was upheld, and an effort to restrict the NYPD's ability to police large-scale events was rejected."
But the NYPD's new police commissioner, asked for comment at today's traffic fatality event, declined.
"I won't comment," he said with a knowing smile.
"That is a man of discretion!" Mr. de Blasio exclaimed.
Additional reporting by Jill Colvin.