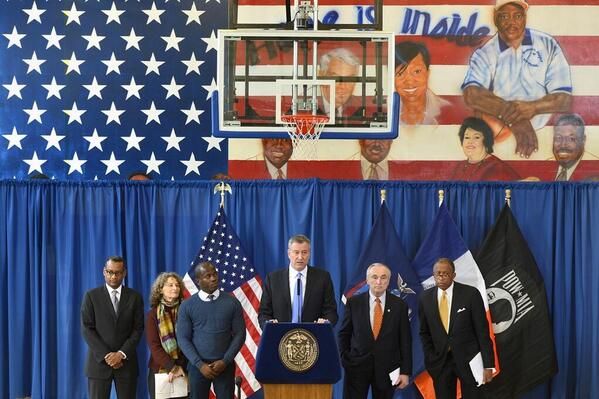 Standing in a Brownsville, Brooklyn recreation center, Mayor Bill de Blasio repudiated much of his predecessor's public safety legacy this afternoon.
With a host of elected officials looking on, the new mayor and his police commissioner said they would end the controversial appeal of a stop-and-frisk lawsuit, drawing overwhelming praise from some of Michael Bloomberg's bitterest critics. 
"Our young men of color, our young people of color, are our future leaders and will form the backbone of this city in the future and we need to respect them as such," said Mr. de Blasio, echoing the complaints of critics who have said stop-and-frisk unfairly targets minorities. "Let's face it: For decades they have not experienced that kind of respect. So we've set up a contradictory dynamic in a democratic society. We've said everyone's equal, everyone has opportunity, but we haven't treated people that way from our official government organizations."
Mr. de Blasio laid out a deal today that would eventually end the city's appeal of a federal court ruling that deemed the NYPD's implementation of stop-and-frisk unconstitutional. Mr. Bloomberg had furiously fought the ruling and promised that gun violence and fatalities would spike if the court order, which would create a federal monitor for the NYPD, were put into effect. Today, with his police commissioner Bill Bratton, Mr. de Blasio bluntly demonstrated that his administration would very much break with Mr. Bloomberg on this issue.
Old Bloomberg policing-policy nemeses, like New York City Liberties Union Executive Director Donna Lieberman and Public Advocate Tish James, attended the press conference and reveled in Mr. de Blasio's announcement. Many African-American elected officials, including Ms. James, Congressman Hakeem Jeffries and Brooklyn Borough President Eric Adams, also appeared with Mr. de Blasio in the predominately black neighborhood, where tension with the police department, as well as gun violence, remain top concerns.
"This is indeed a good day. What a good day. I am so glad to be here at the same press conference with the mayor of the city of New York," Ms. Lieberman said. "Of course, we understand that the culture of the largest police force in the country cannot change overnight. But we all know that change starts with the message from the top and we believe in the good will and the good intentions of the new administration."
"What a change," she added.
Stop-and-frisk numbers fell dramatically in the final months of Mr. Bloomberg's tenure, especially as the ethical implications of the anti-crime tactic embroiled last year's mayoral race. During the electoral contest, Mr. de Blasio galvanized black and Latino voters by forcefully vowing to "end the stop-and-frisk era."
Still, many questions remain about this new era of policing. Mr. Bloomberg and his allies have long argued that the aggressive and targeted use of stop-and-frisk acts as a deterrent, keeping guns off the street and keeping crime low. With a new inspector general and federal monitor set to be appointed, critics have charged that police officers will struggle to adjust to new oversight and a new chain-of-command.
Mr. Bratton, however, insisted today crime could remain at historic lows without following the Bloomberg blueprint.
"[It's clear] that constitutional, lawful policing, respectful policing is ultimately effective policing," Mr. Bratton said. "That's not just a trite phrase, it's the reality."