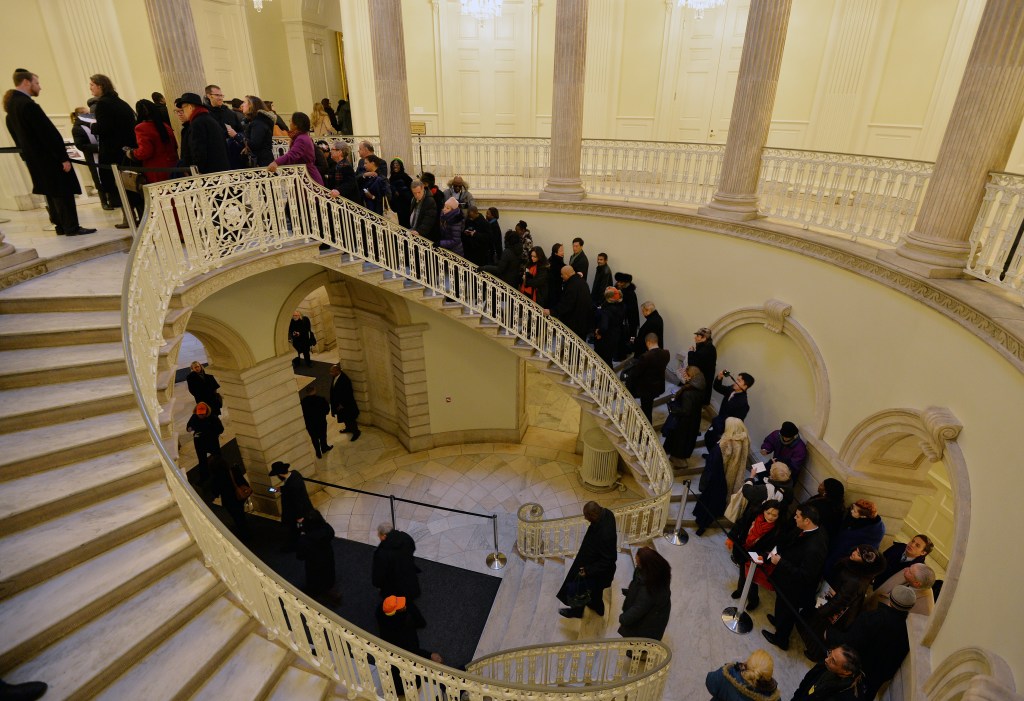 A line hundreds deep and hours long snaked through the City Hall rotunda this afternoon, crammed with New Yorkers waiting to take a picture with the new mayor of New York City after his inauguration.
To the many admirers of Mayor Bill de Blasio, the first Democratic mayor in two decades, a bitter cold day in January and a massive wait could do little to diminish their glow. 
"It was awesome. I guess you can say it was like a growth experience for me because I'm grateful my vote counted and the guy I really wanted to get in, got in," said Helen Marrow, a Manhattan hotel worker, as she waited for her turn with Mr. de Blasio.
"It's something I never imagined, but I am so thrilled for him and his family and it gives me faith in politics in general," reflected Marian Fontana, a writer from Staten Island. "I probably waited an hour and a half."
Mr. de Blasio, looking confident between indecipherable small talk and endless photos–chugging a can of Limoncello to keep fresh in his dark suit and red tie–was feted as the sudden hero of progressives and good-government advocates across the city.
But the inauguration, which was touted before-hand as "one of the most open and accessible swearing-in events in New York City history," also provided a window into how the administration will handle the new crush of attention, with Mr. de Blasio–a former political operative known to be image-conscious–keping certain aspects of the event tightly controlled.
Along with Bill Clinton, Hillary Clinton, Michael Bloomberg, Andrew Cuomo and the other stars who graced the inauguration stage, various non-political New Yorkers were asked to join them, lending the event an even more populist tinge. Hours before the speeches began, those New Yorkers sat quietly on folding chairs in the City Hall rotunda. But when Politicker approached a man to ask him about how it felt to take part in the inauguration, security quickly circled and demanded the interview end. 
Later, when reporters tried to approach volunteers at the event, staffers quickly swooped in, saying the volunteers were barred from talking to the press.
And after Mr. de Blasio's speech, reporters gathered inside on a carpet awaiting the Clintons were ordered by security guards off the carpet and behind columns where several refused to go. When asked who was inside, a de Blasio aide guarding the entrance was terse. 
"Keep wondering," he offered.
Still, for the regular New Yorkers present, the day offered a great deal of excitement for change after 12 years under Mr. Bloomberg, a billionaire whom critics accused of being out of touch with average residents of the five boroughs. And Mr. de Blasio's stated willingness to listen to such voices could bring him some accolades in the coming days, as one good-government leader pointed out today.
"We expect a much more open City Hall. We expect a City Hall that is more responsive to the concerns of ordinary New Yorkers," said Susan Lerner, the executive director of Common Cause, as she floated through the inauguration. 
"Let me be honest," Ms. Lerner added. "The bar is low."