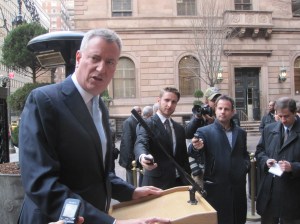 Mayor Bill de Blasio is super excited about the upcoming Super Bowl in New York.
Speaking to reporters after a meeting with Cardinal Timothy Dolan, Mr. de Blasio–a supporter of the New England Patriots and the first die-hard sports fan to occupy Gracie Mansion in more than a decade–praised the National Football League for choosing to hold the biggest game of the year across the river in New Jersey.
"You know, I want to commend the NFL because they broke with the history and decided to go to a major city that happened to be in the north and play at an outdoor stadium. And I'm a longtime football fan and I think this is exactly the right thing for the NFL to have done," he said. "And I commend them. It's gonna have a fantastic impact on our local economy. It's gonna be great for New York City."
Mr. de Blasio–who has yet to appoint the bulk of his administration nearly two weeks since taking office–went on to say that he has been in close contact with NFL officials and expects the festivities, which are are expected to draw hundreds of thousands of fans to the city, to go smoothly.
"We're working very closely with the NFL and with our partners in New Jersey to make sure that everything goes smoothly, and the reports that I've received have been absolutely sterling," he said. "I think everything's going beautifully."
"I can tell you it's gonna be an extraordinary moment for New York City and a one I hope we can repeat in the future," he added.
But Mr. de Blasio seemed to have less confidence in his beloved New England Patriots, who will be the underdogs when they face off against quarterback Peyton Manning and the Denver Broncos in this weekend's AFC championship game.
"We'll see next Sunday what it means for them," said the mayor. "But they have a very tough road ahead."