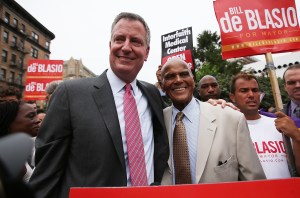 Mayor Bill de Blasio's transition team will return a $1,100 contribution it mistakenly accepted from its top money bundler, whose company does millions of dollars worth of business with the city, an administration spokesman said.
According to city Campaign Finance Board rules, transitions are barred from accepting money from people who are currently lobbying or who have open contracts with the city to limit the influence they wield on an incoming administration. Those people are still allowed to bundle, however.
"To reduce the possibility or perception that large campaign contributions can influence decisions about City business, candidates for office have strict limits on the contributions they may accept from people doing business with City government. After candidates have been elected to office, they are prohibited from accepting 'doing business' contributions for their transition or inauguration for the very same reason," a spokesman for the board explained.
As Politicker reported yesterday, Charles Hocking, the president of Hazen and Sawyer and the top bundler for Mr. de Blasio's transition, is listed in new campaign finance documents as having raised $30,350 for the effort, including a $1,100 personal contribution to help pay for the new mayor's inauguration and other transition expenses.
Hazen and Sawyer–an engineering firm that specializes in providing safe drinking water and controlling water pollution, according to its website–has more than $100 million dollars worth of open contracts with the city's Department of Environmental Protection, according to city records. Employees at the firm, who are listed as living as far away as Georgia, Florida and North Carolina, also made a total of 43 contributions to the transition, totaling $16,200, the campaign records show.
Mr. de Blasio's team did not immediately return requests for comment about their specific error, but the contribution by Mr. Hocking–who declined to comment–may not have raised flags with the transition team because of an error in the city's "Doing Business" database, which appears to incorrectly list his name as "Charles S. Hockey."
A staffer at the Mayor's Office of Contract Services, which maintains the list, referred questions to Mr. de Blasio's City Hall press office.
Updated at 1:49 p.m. with comment from the campaign finance board.