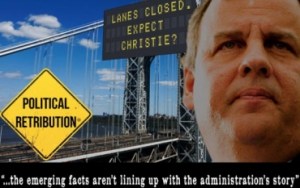 A Democratic group run by top Hillary Clinton supporters is weighing in on the George Washington Bridge controversy for the second time in as many months, labeling the incident a "scandal" and demanding additional answers from New Jersey's governor.
Correct the Record, an arm of the super PAC American Bridge, is calling on Gov. Chris Christie to "come clean" about the controversy as the potential GOP 2016 White House candidate's administration became more ensnarled Wednesday in the GWB controversy.
"Christie said previously he'd been briefed by his staff and been told 'everything we know' about the scandal. Chris Christie assured the media and public the scandal is 'not a big deal,' but now we know otherwise," said Adrienne Elrod, communications director for Correct the Record.
"So many questions remain unanswered. Was there a cover-up? Was Christie lying then or lying now? It is time for Gov. Christie to turn over emails and phone records and come clean on what really happened," she said.
Correct the Record was recently launched by American Bridge. The group focused on conducting opposition research on potential candidates seeking a White House bid in 2016.
Last month, Correct the Record launched a graphic that put New Jersey's Republican governor in the center of the controversy at the Port Authority of New York and New Jersey.