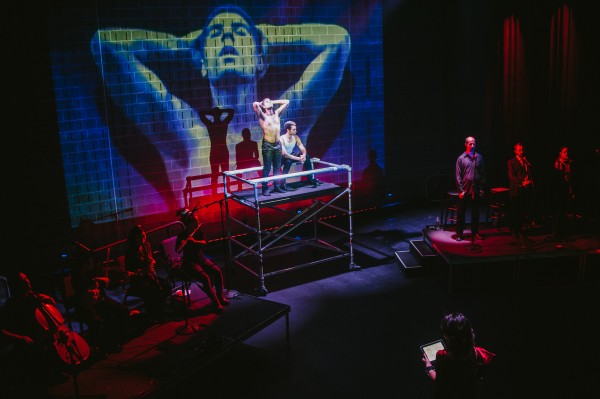 Phillip Glass's first opera was centered on Albert Einstein. John Adams's was about Nixon and Mao. Composer Joe Diebes, director David Levine and poet Christian Hawkey, avant-gardists through and through, working as a group for the first time, have gone with Rob Pilatus and Fab Morvan—Milli Vanilli. Their opera is called WOW.
On a frigid evening last week, in the black-box theater of Fort Greene's BRIC Media Art House, where the opera was having a dress rehearsal, the three men were discussing how they chose their subject as singers and instrumentalists warmed up nearby.
"I was cleaning up my apartment, I had VH1 on in the background, and their story got lodged in my head," Mr. Levine said. As you may recall, the pop stars shot to fame in the late 1980s, won Best New Artist at the Grammys, and were disgraced when it was revealed they had not actually sung their vocals, a ruse that began to unravel when a CD skipped in concert—"Girl, you know it's…" looping ad infinitum. 
"It's always the same arc with Behind the Musics," Mr. Levine said, "but this one was so specifically about singing. You sell your voices to the devil, and then he wants them back." He wasn't sure if his partners would go for it, but Mr. Diebes was thrilled. It linked to his interest in "technology, the voice, the emergence of the digital," he said excitedly. "It was a couple years after CDs were introduced so the sound of a CD skip was a very exotic thing at that point. 
"At first I thought, you know, 'That's like an insane idea,'" Mr. Hawkey, who penned the libretto, said, between sips of steaming soup. But he was quickly entranced. "It's so counter to not just poetry, and what one thinks of as poetic," he said approvingly, "but also, there's a certain strain in American poetry that's very focused on voice and self and expression, and what these guys did in terms of lip-synching subverted that whole paradigm." It also resonated with the present moment, he ventured: "a similar trust in technology" suddenly shattered—the skipping CD as a Snowden-like moment.
You may have forgotten that Milli Vanilli, the creation of German record Svengali Frank Farian, first made their names in the Munich clubs, but the Germans apparently have not, and a radio producer from the country was on hand to record last week's rehearsal. (Curiously, the men were not credited as singers on their early releases there, but, pre-Internet, this apparently did not arouse concerns Stateside.)
Fittingly, there's a fair amount of artistic thievery in their production. Mr. Diebes used bits of Wagner's Meistersinger (1868) for the score. "It's about an errant knight who walks into a small town in Germany and he comes across these Meistersinger," he said. "They have a contest every year—who can write the best song and sing the best song, the best pop song, basically." Mr. Hawkey, for his part, used lines from Milli Vanilli interviews to write the libretto, "in solidarity with Rob and Fab."
Mr. Levine had set up the opera so that its two protagonists moved throughout the entire building, which includes a TV studio on site (where "Rob" and "Fab" engaged in a final, confrontational interview following their outing musical charlatans) and an art gallery where Andrea Merkx and Nathan Gwynne have organized an impressive Milli Vanilli-themed group show. It was inspired by the gallery scene in the group's video for the hit single "Girl I'm Gonna Miss You."
Were the three collaborators Milli Vanilli fans?
"We were all the right age," Mr. Levine said of his partners (they're in their early 40s), but was quick to say he was listening to indie rock and metal by then. 
Mr. Hawkey recalled just being confused. "I remember really specifically when those videos first came out being kind of not able to process them," he said. "The cobbled-together dress, the shoulder pads and the Spandex, the boots and the braids and the broaches." They had a "harmless, heternormative masculinity," he said, "but at the same time they had the eyebrows, the makeup, and they were slightly queer. Everything was out of sync."