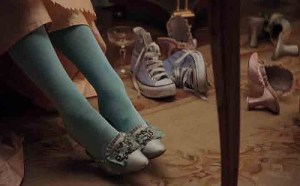 Following in the footsteps of The Mark and Extell's Carlton House, which kicked off their partnerships with Bergdorf Goodman and Barneys last year, Elad has announced that its latest luxury conversion 22 Central Park South will also feature in-home access to personal shoppers and hair stylists from Bergdorf. The upscale department store is literally right around the corner, as a New York Times article on extreme amenities points out. But why go all the way down the street to find your own personal shopper when the concierge can call one 24/7? (The service will prove especially helpful, of course, for those last minute pre-gala emergencies.)
Elad's 22 CPS, for example, will have "a V.I.P. relationship with Bergdorf's, whose staff will be on call for services including personal shopping and at-home salon treatments," according to The Times. Meanwhile, Carlton House owners get VIP access to the store, personal stylists and entree to the penthouse suite for private shopping. Residents will also be able to have lunch and dinner delivered from Fred's and get made-to-measure services, in-home custom suit services and home delivery of any in-store purchase. And those who live and stay at The Mark enjoy "limitless access to personal shoppers and expert advice from experienced staff" as well as complimentary delivery.
But despite the Marie Antoinette-esque fantasies that "personal shopper," or "at-home salon visit" will undoubtedly conjure in the minds of some buyers—a dressmaker and cobbler and milliner and hairdresser ministering to every whim within one's very own sumptuously appointed rooms—such department store partnerships do not offer much pampering beyond what any well-heeled shopper can already enjoy. Personalized services, including home delivery and complimentary personal shoppers, are staples of high-end department store offerings, Barneys and Bergdorf's in particular.
When The Observer contacted the developers to see just how extensive the touted VIP treatment would be, we learned that it largely consisted of the concierge having a direct line to the department store. Spokespeople from both Extell and Elad assured us that, unlike a pool, private dining room or maid service famous for ratcheting up maintenance fees, the partnerships would not be adding any costs to monthly maintenance bills. Rather, residents will pay for the services individually and receive a few complimentary bonuses—like in-home tailoring in the case of the Carlton House/Barney's partnership.
"Barneys has a concierge that will assist Carlton House residents with any of their purchases and access, and specific services are individually priced. In addition, the Barney's concierge will be working closely with the Carlton House Concierge to streamline all requests and services," wrote an Extell spokesperson.
However, Barneys is already more than accommodating for anyone who can afford the department store's services. A quick call confirmed that personal shoppers were complimentary—as they are at Bergdorf's and most any other store; personal shoppers generally work on commission—and that all purchases can be delivered via messenger service anywhere in Manhattan. Also, Fred's does lunch and dinner delivery every weekday and dinner on the weekends. In other words, no Uptowner need leave the house to enjoy the lobster bisque.
The services are certainly extensive, but exclusive? Not so much.At 22 CPS, residents will get some special treatment—specifically, decorating consultations that can be done at-home or via Skype with Andrew Mandell, vice president of decorative home at Bergdorf's. (Such consultations have not been offered before, according to an Elad spokesperson.) "Bergdorf Goodman is known throughout the world for its elegance, quality and superior customer service; partnering with a best-in-class residential property like 22 Central Park South—one that raises the bar on luxury—is a logical extension of the Bergdorf brand," Mr. Mandell wrote in a statement about the partnership.
But Bergdorf's is eager to assist all of its clients with other perks, offering free standard delivery on purchases and at-home salon appointments, a call to Bergdorf's John Barrett Salon confirmed.
Of course, not everyone has an in-building concierge on hand to make the appointment. And, we assume (or at least hope), wrangle the most in-demand personal shoppers and stylists. Still it's comforting to know that one needn't buy a multi-million dollar apartment to enjoy most of these personalized services. Barneys and Bergdorf are more than accommodating to anyone with the substantial means to shop there.