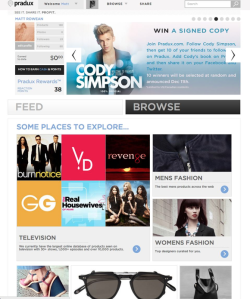 Good news for all you die-hard Gossip Girl fans who'd give anything to dress exactly like your favorite Upper East Side prep schoolers: there's now an app for that.
Today marks the launch of Pradux, a new site that lets you buy the exact clothes worn by your fave characters on TV.
Love the stupidly flouncy dress Zooey Deschanel's wearing on New Girl? You can literally log on to Pradux mid-episode, and place an order. Can't stop thinking about that kooky romper Lena Dunham wore on that really weird Season 2 episode of Girls? Pradux has also cataloged outfits from shows that have already happened, so you're all set.
Pradux users can search for clothes by following TV shows, brands, actors and even specific characters.
But wait! The site lets you make moneyz, too. Users can set up Pradux profiles, and post photos of their favorite items to various social media platforms. If a friend buys an item by clicking on your social media post, you get to take home half the commission Pradux receives from the clothing brand. We're not telling you to go quit your day job or anything, but it might let you like, buy an obnoxiously flavored Starbucks latte now and then.
Pradux founder Alex Koblenz said he got part of his inspiration for the site by attending a Jay-Z concert.
"I was at a Jay-Z concert, and I wanted to know what he was wearing," Mr. Koblenz told Betabeat. "I went home and started Googling it, and I struggled and spent hours, and was unable to find it. I wanted to build something to essentially solve that problem."
Mr. Koblenz said he has seen blogs that try to catalog the outfits worn on TV shows, but he "[has]n't seen any of them take the entertainment side and combine it with social, and layer that with real cash rewards that users can get."
Next, Pradux will start incorporating fashions seen not just on TV, but also in movies, music and sports.
Betabeat made sure to ask the most pressing question of all: does Pradux also feature the outfits worn on reality TV?
Mr. Koblenz assured us that yes, the Real Housewives of Beverly Hills were accounted for, so we can't really find anything to complain about.