Comparing Gabriel Sherman's new book on Roger Ailes, The Loudest Voice in the Room, to Zev Chafets's book, Roger Ailes: Off Camera, would be a worthwhile pursuit, but I'll leave the reviewing to others. There are unovercomeable conflicts—Mr. Chafets is a friend who occasionally contributes to the Observer, and Gabriel Sherman is an Observer alum.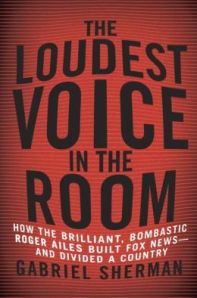 I've read both and will leave it at this: Mr. Chafets does a better job penetrating the psyche of Mr. Ailes (Mr. Chafets had extensive access to the wizard), and Mr. Sherman's book does a better job depicting the phenomenon of Fox News and its cultural meaning (though I would have suggested fewer deployments of the word "middlebrow" in describing The Mike Douglas Show and Ohio). I will add that I admire the way Random House publicity people have gotten Mr. Sherman out there, with a dedicated website and appearances on CNN's Reliable Sources, The Colbert Report and an excerpt in New York magazine (where Mr. Sherman is a contributing editor and writer), as well as reviews all over the place.
So I write this today not to comment on the merits of either book, but to share a bit about how the New York Times compiles its bestseller list. According to Media Bistro, Mr. Sherman's book will debut at number 9 on the New York Times bestseller list next week. Just as it's impossible to overstate the role of Fox News in the cable universe, it's impossible to overstate the importance of the New York Times list to book sales. It's the only list that matters. Making the Times list creates a virtuous cycle—you make the list, and then bookstores display your book in a more prominent place, and then you sell more, and then you move up the list.
But is the list fair to conservative books? And by extension, is it overly generous to books preferred by liberals?
The formula for the New York Times bestseller list is a closely guarded secret, for obvious reasons. As a sample-based poll, any author or publisher who could deduce which stores were being polled could send representatives to those stores to buy books to make it appear to be selling much better nationally than it really is. In general, the Times does an excellent job of correcting for bias. And when it does detect artificial purchases, it denotes same with a symbolic dagger, telling the world that an author is stuffing the ballot box.
But I have reason to believe the system does not quite reflect the political reality. In the fall of 2002, my book came out—Leadership, which I co-wrote with Rudy Giuliani. Our publisher, Miramax, booked the former mayor on a massive cross-country publicity and book tour that included a full hour on Oprah to launch. At appearances, Rudy would sign anywhere from 500 to 2000 books for the hundreds of people who gathered to meet him at the height of his post-September 11 popularity. Leadership was on the bestseller list for 26 weeks, and spent five weeks at No. 1—a hit by anyone's accounting, and we were thrilled.
But here's the thing. We kept getting booked at small, independent bookstores like Bookends in Ridgewood, NJ, and Books & Books in Coral Gables, Fla. We loved it. But we noticed that we sold a lot more books at a big box than at an independent bookstore signing. It was my job to manage these logistics, so I would ask Miramax, "Why do you keep scheduling us into independent bookstores, when we sold 1500 books at the Staten Island Costco?"
We were always told by Miramax's able and knowledgeable publishing industry pros that it's because the New York Times over-samples adorable little stores and under-samples chains. And it really under-samples non-bookstores that sell a lot of books, like Costco and BJ's.
In other words, they over-sample the places where liberals shop, and under-sample the places where conservatives shop. So that might help explain why liberals who view Mr. Ailes as a sort of evil Svengali have propelled Mr. Sherman's book to No. 9, while Mr. Chafets's book, which depicts Mr. Ailes essentially positively as a visionary and innovator, only reached the "extended list" for two weeks when it came out last year. Consider the contrast to the USA Today list, which shares its methodology in detail and is thought to better reflect the middle-America patterns. Loudest Voice made its debut this week on USA Today's list as well—at number 122.