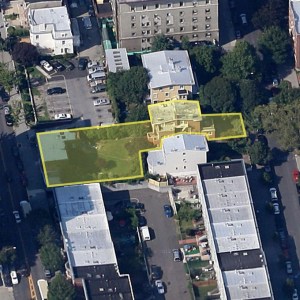 When we spoke earlier this month with Corcoran's Vicki Negron about the recent sale for $7.5 million of a kingly assemblage at 164 South Oxford Street in Fort Greene—a deal on which she acted as the seller's broker—she expressed hope that the buyer would not badly violate the neighborhood's pseudo-countrified character. "The new owner will probably either raze the building, or build an enhancement to the back of it, to create a more modern multifamily configuration," she allowed, but she hedged against the prospect of glassy towers, which might mitigate the property's "picture book-pretty" quality.
The site's former owner, Belgian artist Marc Lambrechts, who lives in a townhouse next door, described an idyllic, communal life with the tenants to whom he had rented the property; at more than 150 years of age, its buildings had simply become more work than they were worth. But as Buzz Buzz Home revealed today, that lifestyle is unlikely to continue; the new owner is the developer East River Partners, known for turning brownstones into apartment buildings.
Still, the company has shown evidence elsewhere of good taste, and of respect for neighborhood aesthetic mores. That the two adjacent buildings planned for construction will be only four stories—and 50 feet tall—containing just seven units each, also bodes well for this brownstone and tree-lined Brooklyn street. And anyway, who says apartment buildings can't be picture book-pretty?