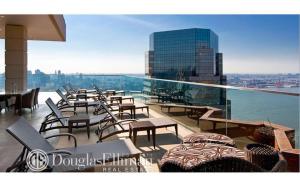 We read a lot in real estate news about records and benchmarks set by Manhattan's most spacious and expensive properties, a trend for which we are willing to take partial credit—or blame. And amid talk of $100 million apartments, it is easy to forget that the little guys can leave a mark, too. Lately, a studio apartment at 75 Wall Street has done just that, fetching $790,000 for just 445 square feet—or $1,775 a square foot—a figure that nearly doubled the average square-footage price for a FiDi studio in 2013's fourth quarter, according to Miller Samuel's data.
In the estimation of Douglas Elliman's Ariel Cohen, who brokered the deal, the sale is indicative of a nearing fruition of the neighborhood's rise, which, he said, began in earnest around 2004. "In the Financial District, this is unheard of," he told The Observer. "If you hear someone paid $1,800 a foot in Soho or Tribeca, people will say, 'well, whatever.' There's not the same perception in the Financial District. But that perception is going to change." The previous high-water mark for studio square-footage in the area, Mr. Cohen said, was $1,540, a figure that Jonathan Miller, among others, agreed with. 
The condo, which is nearly 70 percent sold, contains both residential—apartments occupy the building's upper 24 floors—and the Andaz, the luxury lifestyle branch of the Hyatt Corporation. And those living on high benefit from amenities on offer below: "This was a no-brainer of a deal for the buyer," Mr. Cohen said, prompting us to wonder whether "no-brainer" was quite right for a purchase at the apex of the studio market. Nonetheless: "This is a great studio on a high floor in an ultra luxury building with all the amenities and services of a five-star hotel. He didn't just buy a studio, he really bought a whole lifestyle."
The buyer, a man from Asia whom Mr. Cohen believed wanted the property as an investment, did not dither, paying full fare for the unit in cash. Like many foreign buyers, the broker said, this one was unemotional: "They're like, 'Cash, now!' He was very straight to the point."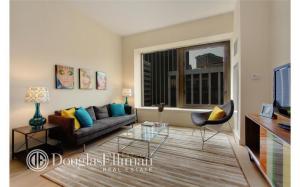 But 75 Wall Street, he said, has a softer touch: "This building is not catered to stockbrokers and finance people. The audience really runs the gamut." What buyers share, is an affinity for "resort style living, a luxurious lifestyle, and enormous condominiums."
Lawyers and entrepreneurs will no doubt find much to love in such amenities, but surely, Mr. Cohen will be able to find a few stock brokers who can stomach that sort of thing as well.