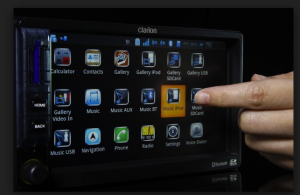 As our cars slowly morph into Compaq desktops on wheels, security experts warn all those Internet connectivity options might lead to severe issues–like hacking.
Security firm Harman warned that it could become a "serious problem" because the car's electronic control units, which contains the connected infotainment systems that Google and Apple are pushing to be a part of, are also connected to the vehicle's engine and safety functions. That poses a problem for evil motorheads who could potentially hack into the car. 
At CES, Harman's president of infotainment (that's a thing!) Sachin Lawande said that cars aren't built to be protected against hackers:
"Now that they are connected to the internet their level of exposure is very different. A cyber attacker can take control of critical vehicle functions, and unless we can make them secure the increasing levels of connectivity are going to make it worse."
Scaremongering aside, Mr. Lawande said his firm is developing a "software barrier" to sort of protect the cars from hackers. The software won't protect the infotainment systems from hackers but will stop them from maneuvering into the car's engine or transmission. 
As long as no one touches our Ke$ha station on Pandora, I think we will escape this unscathed.