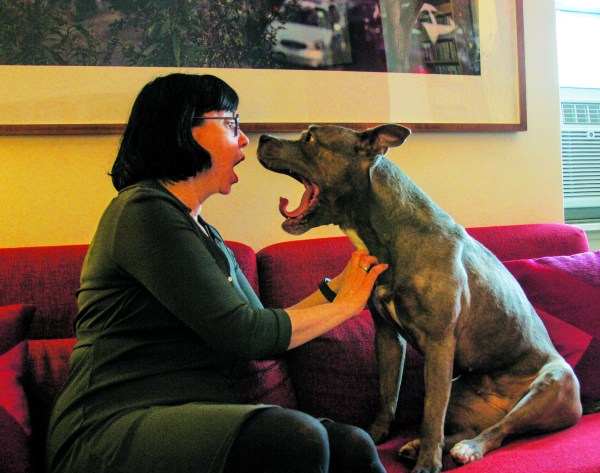 In August of 2012, Stephanie Aaron found a stray pit bull on a Lower East Side playground and took the dog, a light brown female with a splotch of white across her chest, back to her apartment.
"I didn't mean to keep her at all; I tried to find a shelter," said Ms. Aaron. "I had no plans to get a dog." But Ms. Aaron quickly grew attached to the pit bull, whom she named Rosie, and almost immediately noticed an improvement in the depression and anxiety symptoms that had, of late, been plaguing her.
"Within a few days, I realized I was able to do things that I hadn't been able to do before. I became more social—because of her, I actually know the neighbors in the building better," said Ms. Aaron, who suffers from chronic major depression, anxiety and post-traumatic stress disorder. "If I stand outside the building for five minutes, people stop to see her, pet her, ask me about her."
The problem is that Ms. Aaron's building is part of East River Housing Corp., a sprawling co-op complex at 573 Grand Street on the Lower East Side that does not allow dogs or other animals without "prior written consent," which Ms. Aaron didn't request when she decided to keep Rosie. "I didn't ever bother to try, because everyone else has a dog," Ms. Aaron admitted. "There are probably 10 dogs in my elevator bank."
A month later, the co-op demanded that Ms. Aaron remove Rosie. Loathe to do so, Ms. Aaron learned that her mental health problems might allow her to keep an emotional support animal under the Fair Housing Act. She obtained a letter from her psychiatrist, and when the co-op board refused to accommodate her, she filed a complaint with HUD, which led this December to the U.S. attorney's office suing the co-op. (Rather than appear before an administrative HUD judge, the co-op board has elected to have the case tried in federal court.)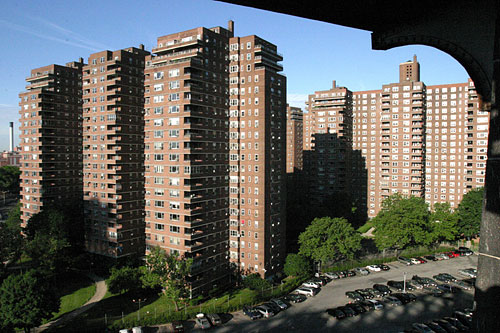 Now, the federal government has amended the complaint to include two other East River residents—Steven Gilbert and Amy Eisenberg—whom the co-op has also refused to allow to keep pets, despite the fact that both produced documentation attesting to the fact that they suffered from mental health issues. (Ms. Eisenberg is fighting to keep her 2-year-old cockapoo; in Mr. Gilbert's case, the dog in question—that of a visiting friend—has been removed, but he decided to press ahead with his complaint in the hopes of obtaining a dog in the future and reversing a housing court judgment against him that mandates he pay the co-op board $30,000 in legal fees.)
The East River housing case not only highlights what has become a contentious issue in a city where most residents live in shared buildings—some of which happily permit pets and some of which emphatically prohibit them—but also has the potential to rewrite how co-op and condo boards deal with increasingly frequent requests for assistance animals, which can range from a seeing-eye dog to a lapdog whose presence soothes a resident with anxiety.
"If the government prevails in this case, it will certainly set a precedent that would push the envelope substantially, there's no question about it," said Eva Talel, a real estate partner at Stroock & Stroock & Lavan, who is head of its co-op/condo representation group. (She is not involved with the case.) The outcome, she said, has the potential to significantly change how anti-discrimination housing laws are applied.
Ms. Talel pointed to several issues in the East River case that would make a decision in the tenants' favor unprecedented—most notably the fact that neither Ms. Aaron nor any of the other plaintiffs acquired pets because of their problems but only noticed the animals' ameliorative effects after the fact. Moreover, they only applied for the "reasonable accommodations" to which disabled residents are entitled after the co-op board demanded that they remove the animals.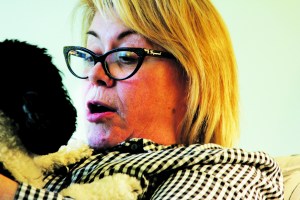 Disability has been broadly interpreted up to this point, including both physical impairments such as blindness or deafness, as well as any mental disorder that is defined as such in the Diagnostic and Statistical Manual of Mental Disorders. However, it is worth noting that the Americans with Disabilities Act defines service animals—and the many permissions they are allowed in society—quite narrowly as "working animals, not pets" and stipulates that "the work or task a dog has been trained to provide must be directly related to the person's disability." It also specifically excludes "dogs whose sole function is to provide comfort or emotional support."
At issue, Ms. Talel said, is whether or not any individual who can prove he or she has a disability, and a doctor to attest to the fact that the animal is in some way beneficial for that disability, is entitled to an assistance animal. Until now, the law has been much more narrowly applied.
The Fair Housing Act is itself quite vague, stating that buildings must make "reasonable accommodations" when "such accommodations may be necessary to afford … person(s) [with disabilities] equal opportunity to use and enjoy a dwelling," leaving a lot of latitude for the courts as to what exactly use and enjoyment of a dwelling means.
"Is a pet necessary or is it helpful? That's one of the very slippery issues," Ms. Talel said. "It's too late to put the genie back in the bottle now, but frankly, I don't think that any of these support cases prove using and enjoying a dwelling. With service pets, they really are essential, because otherwise the person can't get around, but with support pets, a lot of the time, you'll hear things like the animal gets them out of the apartment more. What exactly does that have to do with use and enjoyment of the apartment?"
In a case that is currently pending at Manhattan Supreme Court, a deaf man is suing his Battery Park City condo board for the right to keep his doberman pinscher (the board has a no-big-dogs policy), even though the dog doesn't actually live with the man, but rather in a neighboring apartment with his adult daughter, because the man's wife is allergic.
Meanwhile, there is little precedent for such cases on a federal level—several years ago, the federal government sued another co-op board, Woodbury Gardens, in upstate New York, after the board mandated that an elderly woman with depression, anxiety and respiratory problems remove a dog whom a social worker wrote "raises her spirits." The woman complied, then died a few weeks later, which may well have been a coincidence, but resulted in a settlement in which the board agreed to pay $58,000 in damages and submit its pet policies to government oversight. And though the Woodbury Gardens settlement suggests a potentially favorable outcome for the East River case, it does not carry the same weight as a ruling.
Karen Copeland, the attorney who is representing both Ms. Aaron and Mr. Gilbert and has represented dozens of other such cases, sees the issue as straightforward: The co-op has denied a reasonable accommodation to its disabled residents and, despite the fact that the co-op is full of dogs, which the co-op itself readily admits to, has for some reason decided to make an example of these three residents. (The other dogs won the right to stay after having been approved by the board or through the city's "open and notorious" law that allows any dog that has been open and notoriously living in the building for 90 days without interference from the building management to remain.)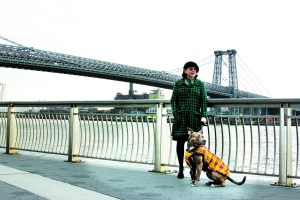 Other attorneys agreed that a building full of dogs, rather than one that stringently enforces a no-pet policy, does present something of an optics problem, potentially weakening the argument that the policy is in place to protect the rights of other tenants with allergies, asthma or phobias. Moreover, according to the federal complaint, the co-op has no written or established policy for making reasonable accommodations for residents with disabilities.
"The building is selective about when they enforce the policy. There was a large influx of dogs here after 9/11, and we assumed it would be O.K.," said Ms. Eisenberg, who suffers from 9/11-related PTSD and brought her cockapoo Ruby home to East River in 2012. "Originally, Ruby was going to be my baby, but then when the PTSD got bad, I didn't know where else to go," she said, describing how the stress of breaking up with her boyfriend and fighting the legal battle over Ruby had exacerbated her symptoms. (Ruby is also now a trained and certified service dog.) Ms. Eisenberg even hired a private detective to document the large number of dogs in the building; she said the detective photographed about 50 dogs over the course of a day.
But Bradley Silverbush, the attorney representing East River Housing Corp., claimed that the cases came down to residents who broke the co-op's rules in getting dogs, then found an after-the-fact justification for keeping them.
"They all involve a similar situation, in which a shareholder, not understanding the restrictions and proprietary lease, just went ahead and got a dog and subsequently took advantage of the human rights provision," said Mr. Silverbush. "Anyone is free to request permission, and the board will take it on a case-by-case basis."
He described several facets of the pending cases—the fact that Ms. Aaron's psychiatrist refused to testify in court (which Ms. Aaron attributed to the psychiatrist not being able to surrender an entire day from her practice) and the state Commission on Human Right's initial finding that Ms. Aaron's case did not have merit, later reversed by HUD, as proving that the tenants did not have a legitimate need for dogs.
Mr. Silverbush said that the co-op had "no choice at this point but to proceed, so we can be vindicated and recover legal expenses."
Ms. Aaron argues that it shouldn't matter why she got a dog, only that she did and that it helps.
"Their point of view," she said, referring to the co-op board, "is that you never had a dog before, so you don't need it. Well, if I had never had spinach before but it makes me healthy, does that mean I don't need it?"
"If I knew how much a dog would have influenced my life, I would have never been without a dog. I could have been a much happier, well-adjusted person," she continued. "When I went to the psychiatrist, she said, 'You know, I get requests like this all the time, but in your case, it's actually true.'"