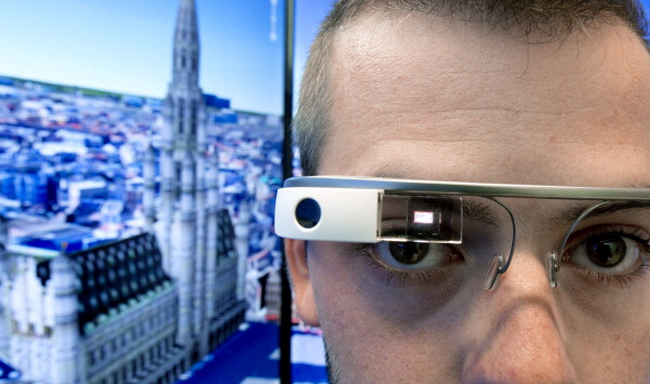 As if you needed another reason not to wear your dumb Google (GOOGL) Glass in public—or ever, actually—an Ohio man claims he was yanked out of a movie theater and interrogated by federal agents, who believed he was illegally filming the movie with his face computer.
The man's full account is posted on The Gadgeteer, but we'll summarize it here so you can get the gist of it before you're engulfed forever in this ghastly winter storm. 
Last Saturday, our Glass-wearing protagonist and his wife went to a showing of Jack Ryan: Shadow Recruit at an AMC in Columbus, Ohio. About an hour into the movie, he says some federal agents yanked the Glass off the man's face, pulled the pair out of the theater and took them to separate interrogation rooms.
The man, who'd just been trying to enjoy a crappy movie with his lovely wife on a Saturday night, says he was accused of illegally taping the movie and questioned extensively about "who I am, where I live, where I work, how much I'm making, how many computers I have at home, why am I recording the movie, who am I going to give the recording to, why don't I just give up the guy up the chain, 'cause they are not interested in me. Over and over and over again."
The agents also allegedly displayed this level of ridiculousness: 
They wanted to know where I got Glass and how did I came by having it. I told them I applied about 1000 times to get in the explorer program, and eventually I was selected, and I got the Glass from Google. I offered to show them receipt and Google Glass website if they would allow me to access any computer with internet. Of course, that was not an option. Then they wanted to know what does Google ask of me in exchange for Glass, how much is Google paying me, who is my boss and why am I recording the movie.
After an hour of intense interrogation, the agents hooked the Glass up to a computer, and saw that all it was storing were personal family photos, he says. They allegedly went through his phone, too, and found nothing.
Then everybody felt really bad, and gave the man and his wife four free movie passes, so they can go see Jack Ryan: Shadow Recruit again, twice.
Based on this strange tale, here are some things we should probably establish:
1) AMC needs to learn what Google Glass is, set out a policy as to whether its patrons can wear it or not. Yes, it's pretty weird and suspicious that this dude was wearing Glass to the movies. Why would anybody do that, if not to film the movie? But having the feds remove a man from his seat mid-movie is pretty shitty, when what he's doing isn't expressly prohibited in the first place.
2) Law enforcement officials should make an effort to keep up-to-date on the latest technological advancements, so they don't unintentionally behave like dodos.
3) Not that we couldn't guess this before, but Jack Ryan: Shadow Recruit is probably a movie that you should not go see.
UPDATE: The man was wearing Google Glass that had prescription lenses, meaning he needed the Glass to see the movie. He also told Gadgeteer he could have moved a few rows up to see, though. We are awaiting a call back from AMC about their policy on wearing Glass — prescription or not — in theaters.
UPDATE, 2:53 p.m.: AMC has issued the following comment regarding to the incident to Business Insider:
Movie theft is something we take very seriously, and our theater managers contact the Motion Picture Association of America anytime it's suspected that someone may be illegally recording content on screen. While we're huge fans of technology and innovation, wearing a device that has the capability to record video is not appropriate at the movie theatre. At AMC Easton 30 last weekend, a guest was questioned for possible movie theft after he was identified wearing a recording device during a film. The presence of this recording device prompted an investigation by the MPAA, which was on site. The MPAA then contacted Homeland Security, which oversees movie theft. The investigation determined the guest was not recording content.