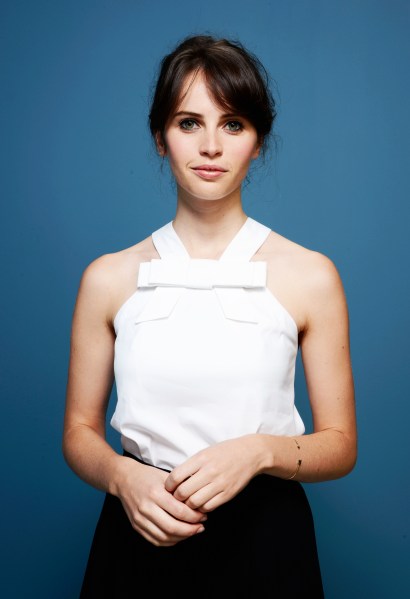 When you meet Felicity Jones, you understand you're not going to find her twerking for attention any time soon. Maybe it's the British accent or the Oxford education or just her quiet confidence, but whatever it is, the 30-year-old actress, who stars opposite Ralph Fiennes in the biopic The Invisible Woman, seems a throwback to a more gracious time. And true to form, we found her on a recent afternoon, sitting leisurely at the Crosby Street Hotel, sipping coffee. Her curly bob artfully mussed. Not a publicist in sight. 
In the film, which was released over the holidays and is based on Claire Tomalin's 1990 book, Ms. Jones plays Nelly Ternan, a young actress who becomes the mistress of Charles Dickens (played by Mr. Fiennes), at least somewhat at the urging of her mother (Kristin Scott Thomas). She related to the character. 
Ms. Jones explained, "She's very proud and has a very strong sense of propriety and dignity. I think that was part of Dickens' attraction to her—that he found something sort of impenetrable in her. With Nelly, I think she didn't want to be underestimated. There was such a power difference between the two of them, so I think she had to be stronger in maintaining her dignity." 
Indeed, dignity seems to be a touchstone for Ms. Jones, who began acting early on (you might remember her from the cult favorite series The Worst Witch) and has frequently been drawn to serious period pieces, such as Northanger Abbey and Brideshead Revisited.
It is not a coincidence. Ms. Jones noted that part of this impulse stems from the fact that she doesn't want to be seen as an ornamental ingenue, and she has found that corsets are in many ways more liberating than you might expect. 
"Sometimes I feel, for women, when a story is set in the past, there's more for you to do," she said. "With contemporary stories, you have to really push to find something where the characters are as complex, and that's not a great state of affairs.
"I love films that are character driven," she continued, "and I love watching Merchant Ivory films. A Room with a View and Howards End are two of my favorites." 
She also remembers sitting around with her girlfriends at university and watching The English Patient, which made the experience of working with Kristin Scott Thomas and Ralph Fiennes a tad bizarre.
"I spend most of my life hoping I'm not going to be found out [as a fraud] and sent away!" she laughed. "But I think everyone feels like that, even the people who are the most revered and most exalted." 
In this unusually talent-rich season, talk of Oscars nods for The Invisible Woman has already begun, and it seems unlikely that Ms. Jones will be dismissed. If she wins, maybe this throwback will end up twerking on stage, after all.