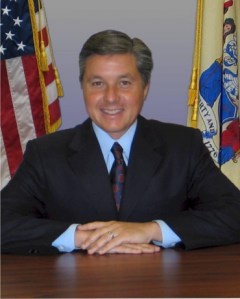 The way to win in CD 3 is not to go it alone, says one of the GOP officials seeking the Republican Party's nod for a bid to fill U.S. Rep. Jon Runyan's (R-3) seat in Congress.
Evesham Township Mayor Randy Brown criticized former U.S. Senate hopeful Steve Lonegan on Monday for, Brown argues, jumping into a CD 3 campaign without first working with party leaders and local officials. Brown, one of several GOP hopefuls seeking his party's nomination in the coming weeks, says teamwork is a concept lost on Lonegan.
"We have a team here, that's the concept that Steve doesn't get. The whole idea here is for the team to build the best candidate," said Brown, an NFL coach with the Balitmore Ravens and previously with the Philadelphia Eagles.
"I have been on teams that have won a lot of football games and you win by being unified, not by being disunited," he said.
Brown reacted to news late last week of Lonegan purchasing a home in CD 3 and declaring his intention to run.
"Individualism does not unify an organization," he said.
Lonegan responded to Brown's statements by saying he was both disappointed and surprised to learn he was jumping ahead of the process, arguing he's right where other GOP hopefuls are in that he declared he's interested in running.
"This is not a district that's going to be easily won," he said, arguing that he, too, wants to bring the party together.
"This is a very competitive district," he said. "I need to unify the Republican Party."
The former Bogota mayor says he was encouraged by winning more than 54 percent of the vote against U.S. Sen. Cory Booker (D-N.J.) in the recent Senate race and said he hopes to score another victory in the competitive district.
He said any backlash attributed to his CD 3 campaign announcement only signals that he's a likely frontrunner in the race.