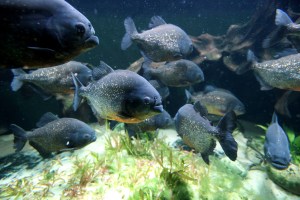 Federal prosecutors have this criminal fish importer in their jaws.
The importer, Joel Rakower, pleaded guilty today in Brooklyn's federal court for intentionally mislabeling imported piranhas, the U.S. Attorney's office announced this evening.
Mr. Rakower is responsible for no small amount of mislabeled piranhas, either. Over the course of 2011 and 2012, according to prosecutors, his solely-owned, Queens-based company submitted packing lists to the Fish and Wildlife Service containing false identifications of 39,548 piranhas, worth approximately $37,376.
Mr. Rakower instructed his Hong Kong supplier to falsely label their shipping packages list as silver tetras—a unaggressive typical aquarium dweller. The fishy merchandise was then sold to fish retailers in several states.
As a result of their aggressiveness, piranhas are illegal or own or sell in New York City.
"Rakower flouted federal laws meant to protect people and the environment from the illegal trade in wildlife species," Acting Assistant Attorney General Dreher declared in a statement.  "Mislabeling imported wildlife presents dangers to the public and the environment and we will continue to prosecute these cases."
"Driven by greed and without regard for the health and safety of people or the environment, the defendant and his company illegally trafficked in piranha by falsely labeling the imported predatory freshwater fish as being silver tetras, a far more benign fish often kept in home aquariums and having a far less street value than piranha," added Queens District Attorney Brown.
Don't forget to check all  the labels.