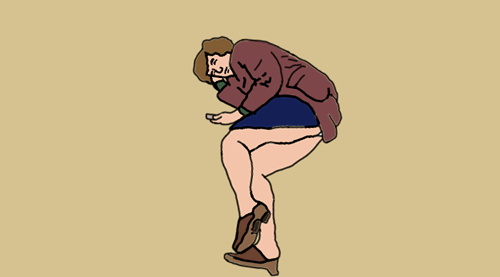 These questions regard last night's episodes of HBO's GIRLS. Please answer the prompts with specific examples from LAST NIGHT'S EPISODES, though supplementary material will be accepted as a secondary source. Please write legibly. No. 2 pencils only. You have an hour to finish this test. See below for questions and sample responses.
1. "You two should enjoy your urine-soaked life fucking like the two feral animals you both are. You're going to end up with a baby that you don't know how to care for. You're going to kill your kid. You're going to give it spoiled formula. You're not gonna get any milk out of those tits."
The above rant comes courtesy of Adam's ex, Natalia (hilariously backed up by friend Amy Schumer). While this seems like just desserts for a guy whose actions last season were more than questionable, Natalia directs as much of her anger towards Hannah as well. (Her grievances with Adam, interestingly, have less to do with his treatment of her as not calling her back.)
It's an over-the-top scene, played for laughs and for shock value. But it seems to be one of those times where GIRLS wants to have it both ways: Adam gets his comeuppance, Hannah is mocked ("Did you leave in a rush?"), and let's leave it there!
How seriously were we supposed to take Natalia's obvious pain over Adam, and how does the choice of having a comedian like Schumer distract from or highlight the darker implications of the scene?

The scene is played for laughs, sure, and Natalia's rant is as ludicrous as it is justified. But it is also not too over-the-top to seem realistic. Note how she starts out tearful and bewildered, and only later, after she is egged on by her silly friend (Amy Schumer's character is a great take on that "friend" who actually just gets off on the drama of her friends' misfortunes, the intensity of whose "anger" is inversely proportional to how invested she actually is in the situation) and especially after she realizes who Hannah is, she gets bolder and vents her anger. This is how this scene might very well have played out in real life.
And the episode doesn't want to have it both ways quite so much as Hannah wants to. She has carved out for herself this life she is very invested in seeing as stable and sweet and perfect, and the encounter with Natalia upset that. As much as she'd like to tell herself, "That is something bad that Adam did in the past, now he's better, we saved each other," she can't quite, because she empathizes with Natalia, both as a woman in pain, and because she has her own doubts about Adam that she has been successfully repressing. Or as she puts it, "we have some shared experiences" — of Adam being sexually aggressive/degrading and emotionally dismissive.
The rest of the episode really plays out as the unfolding of this doubt needling at Hannah. Both times she is alone with Adam after this, she brings it up, and both times her shuts her down. And her dinner party is a social test, to see whether Adam is the sociopath that Natalia knew, or an unconventional guy who can still interact with her friends. And the fact that he passes the test doesn't entirely silence that voice in her head (like Jessa playing the spoiler in group therapy) saying, "You do know this is all an elaborate lie you tell yourself, right?"
2. Now that she's medicated and going to therapy, Hannah seems a lot more…normal. Well-adjusted, at least for Hannah. And yet her sociopathic qualities are kind of what made the show watchable. Using the framework of the current debate over the pros and cons of "likability" in female protagonists in culture, write a recap of a future, hypothetical episode of GIRLS written by Jennifer Weiner. Implicit in the recap should be your stance on whether or not you'd like to watch a show about a nice Hannah Horvath.

Again, let's not get too carried away. Yes, Hannah's life is (much) better than it was at the end of the last season. But she is far from being completely well-adjusted, and I'm not sure it makes her that much more likable. Her therapist may be odd, self-involved and prone to oversharing, but he is also not so terrible at his job. Hannah comes in with a sweet story about how great her life is now, but instead of just patting her on the head and telling her she's awesome, he does what a therapist is supposed to do: find the cracks in the façade, the places that she still might have to do some work, get her to admit where her story isn't quite consistent. And in her resistance to that, we see a character who isn't particularly "likable," even though she is not twitching or actively ruining her life.
What gets left out of the current cultural conversation about the likability of female characters is that when people say they "like" one of Jennifer Weiner's characters, what they really mean is that they identify with that character. And the reason Jennifer Weiner's books get characterized the way they do is less because her characters are likable and more because she enourages that identification and then rewards it with a happy ending. The reader is thus given the pleasant experience of vicarious achievement. And this is absolutely a gendered problem, not because we don't want to read about/watch unlikable female characters, but because we seem to have a very hard time identifying with them. Whereas most critically acclaimed recent television is all about how we can and do identify with pointedly unlikable male characters like Walter White, and what that means.
One of the great things about the evolution of GIRLS has been the way it has been willing to play with this question. It started out as a show whose creator said "there is nobody like me and all the people I know on TV, we don't see ourselves in these characters, and I want to fix that." So identification was explicitly built in. But more and more, the show has been willing to say, wait, what if the problem isn't what kind of person is being portrayed, but the fact that we need to fully identify with a young female character to want to watch her? What if we made such identification confusing and difficult to sustain? And if you think the characters on GIRLS are immature and self-involved because their search for identity is so all-consuming, then isn't the way you watch TV/enjoy fiction equally immature?
It is really hard to imagine the hypothetical GIRLS episode written by J. Weiner, therefore. My recap would probably consist of: "Remember when this show was about people who failed at things and were generally horrible? If I wanted to watch a comedy about successful people being nice to each other, I'd watch … nothing, because there is zero funny about successful people being nice to each other. Congratulations, you have finally killed GIRLS. You killed it with kindness."
3. In lieu of the hero with a thousand faces, describe the "four masks of narcissism" (a term I've just made up), as embodied by each of GIRLS' anti-heroines?

Oh would that there were only four kinds of narcissism. If you throw Adam and Ray and Elijah and Audrey and Marnie's mom and Jessa's dad into the mix, I can count at least ten distinct variants just on this show. Who knows how many there are out there in the wild?
But sticking to our four protagonists, we have:
Hannah: the artistic narcissist — Disguises her self-involvement as "mining her life experience" for material. Believes that "write what you know" means that there is no possible subject of one's art other than oneself, and therefore oneself must be the most interesting thing in the world, or why be an artist at all?
Marnie: the romantic narcissist — In her mind, everything makes sense. It is a story with a clear plot, a beginning, middle and end. But the real world is so messy. Wouldn't everyone just be happier if she remade it in her image? Sincerely believes this is not about ego. The merest hint that she may not get to control her surroundings, however, makes her collapse into herself.
Jessa: the destructive narcissist — Wears her self-involvement as a badge of honor. Believes that everyone in the world is just as narcissistic as she is, but only she has the balls to admit it. Everyone else is weak and hasn't learned to deal with real life. Will burn the world down with herself in it to prove this point.
Shoshanna: the simple narcissist — Someone once told her that there are different ways of thinking than her own, but she couldn't imagine what that would be like, to think differently, so she decided it was silly and forgot about it.
4. Willa Paskin made a great comment about Lena Dunham "leaning in" to criticism : "The characters seemed selfish and abhorrent when they were well-meaning but lost and pampered college graduates? Check them out now that they are full-blown self-dramatizing narcissists. Girls is racist? Watch Hannah babble insensitively to the black guy she's sleeping with. Hannah Horvath is not attractive enough to bang Patrick Wilson? She's going to walk around in a bikini for an entire episode anyway."
The first episode has plenty of these examples: Jessa being told, repeatedly, how she's the worst! Having the first black, female character with more than two lines as a drug-addicted lesbian (who doesn't want people to think she's good at sports!) The apparent misdirect of showing a Hannah/Adam sex scene without any frontal nudity, before cutting to a post-coital discussion and–boom–boobs.
Yet this type of engagement with viewers is becoming increasingly common. How is GIRLS different from shows like Sherlock, Doctor Who, or Community, which all engage with their viewers by addressing criticism by weaving into the shows' narratives?
Lena Dunham has developed this amazing way of dealing with criticism of her show in interviews. She responds to her critics with some variation of "I am so glad you brought that up! I know it is a problem, and I hope this can be the start of a conversation about that." I don't know if it is just amazing PR coaching, but it seems awfully sincere. And it is brilliant. It turns the question of what could be seen as a failing of the show into a moment to talk about an issue in our culture that goes beyond GIRLS — without suggesting that she thus escapes that issue or isn't implicated in it.
Even better, she stays away from actually saying "Yes, I created the show/this scene/these characters in this way specifically so that we could start having a conversation about this issue." (The old hobby horse that defenders of art with questionable aspects have always trotted out: Obviously the artist was raising the issue of misogyny, not actually being misogynist.) She says: OK, let's start that conversation now. I have something to learn. Goddamned brilliant.
But by this point, of course, Dunham, and GIRLS, have a lot invested in keeping these conversations going. They are the lifeblood of this show. Doctor Who, Sherlock and Community have sparked cultural conversations, but not nearly on this level. And so when they address these conversations on their shows, they direct that (often-cheeky) address to their fans, not their critics. GIRLS looks back at its critics and says, OK, I hear you, and I raise you.
In other words, if I were Lena Dunham, nothing would displease me more than if the headlines today about the third-season premiere were all "GIRLS Mollifies Critics, Introduces Strong Black Female Main Character." The show isn't trolling its critics, but it also isn't saying, OK, we have received your message and now we are this new kind of show. It is saying, let's complicate this dialogue some more, in ways that are still going to make someone uncomfortable, and see where that takes us. Like it as a strategy or not, it is certainly not a boring one.
5. Out of everyone in Hannah's life, including Hannah herself sometimes, Adam seems to have the most sympathy for Marnie. The first season he chided Hannah, "Don't minimize!" when she was being flippant over the Charlie breakup. Then this episode, he comes up with this beautiful, somewhat Vonnegut-inspired rally speech during dinner: "Really knowing someone is something else. It's a completely different thing. And when it happens you won't be able to miss it. You'll be aware. And it won't hurt, and you won't be afraid."
Why do Marnie's problems, perhaps the most tired at this point, keep eliciting sympathy from the guy who claims not to care what these girls have to say?
Adam has zero patience for things that he feels are fake or inauthentic or just distractions. And while Marnie's problems aren't particularly interesting, he at least sees them as real expressions of her felt experience. As opposed to Shoshanna's babbling nonsense, or really even Hannah's self-affirming nonsense. He doesn't want to talk to any of Hannah's friends, as he makes very clear, but at least Marnie's sadness feels real and powerful to him.
It may even be possible that he sees a kindred spirit in Marnie, as an addict. What makes Marnie's issues so tired is that she just can't stop obsessing. Kind of sounds familiar to an alcoholic. And the language that he uses is supportive in precisely the way addicts' meetings work: I affirm your experience by telling you about my experience — which may be able to help you if you relate to it.
But it doesn't seem that Adam actually goes to meetings. And clearly this small display of empathy took a great deal out of him. So maybe he was just trying to impress his girlfriend.