Some chefs are operations gurus; others are volume whores. There are downtown up-sellers and uptown down-talkers. Rarely are chefs poets, though. A poet thinks in quantum increments. He travels through the byways of the subconscious, patched through like a pair of jeans from the Great Blue Yonder. By definition inscrutable, a poet tends to perch in trees, avoiding the weeds where chefs thrive.
But Danny Bowien, the chef behind the pass at Mission Cantina, is a poet. He might be 2013's poet laureate of New York's kitchens. He's no fussy wordsmith, though, deliberately placing each trochee. He's more like Blaise Cendrars, the one-armed former French Legionnaire who lived hard and fast and generally destitute.
Being a poet is a mixed bag. On one hand, there's the art. On the other, there's the penury and insecurity, the churn where idealist waves hit worldly shores. Mission Cantina, Mr. Bowien's brilliant taqueria, represents the fulfillment of his promise and, troublingly, the seed of his downfall.
***
For those who have shunned all food media in the last year or so—hard to blame you!—the tale of the tape is this: Danny Bowien opened Mission Chinese in New York in May 2012. He was already a legend in San Francisco, where he opened the original in 2011. His NYC arrival was greeted like the Rapture. His "Americanized Oriental food," as he called it, was exuberant and flattered its audience. Instead of kung pao chicken, there was kung pao pastrami.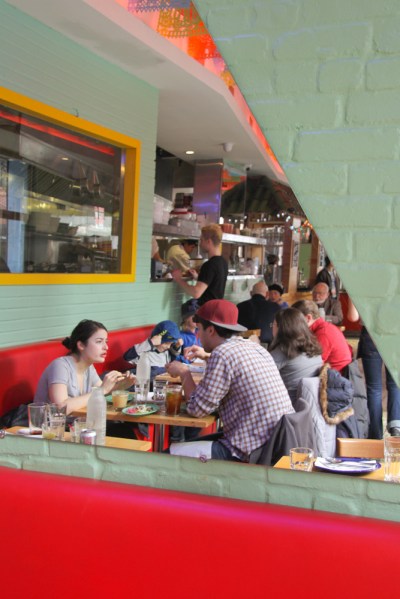 In line with his mantra of "under-promise, over-deliver," Mr. Bowien opened the restaurant in a scuzzy rat hole of a basement on Orchard Street. The previous tenants (Bia Garden, Rhong-Tiam Express, Jeeb Thai Tapas) had marked their sentences in weeks, not months or years. But Mr. Bowien thrived in this holding cell.
To me, part of Mission Chinese's allure was Mr. Bowien himself. Born in Seoul but adopted by a family in Oklahoma City, he crammed all the chicanery of "American Oriental" food, all the "Korean? Chinese? Whatever" into his Vitamix mind and spun it back out, alchemically transformed and authentic.
Mission Chinese proved popular and not just with human foodies—with rodent foodies too. In October, the rat-hole restaurant closed due to a severe mouse infestation or, as an employee wrote, a "leak in the basement." For a short while, Mission Chinese reopened, but it was more like that momentary burst of energy right before final expiry. (Mr. Bowien has said he plans to reopen the restaurant, but rumor is Mission Chinese on Orchard Street could have served its last dish.)
But even as his restaurant lay awaiting burial, closed supposedly for a major revamp, the best euphemism I've heard for death yet, Mr. Bowien's new venture, Mission Cantina, opened its doors.
***
Mission Cantina occupies a charmless corner store on Orchard and Stanton, another accursed space on the Lower East Side (this time a few blocks north). But already, Mr. Bowien's Midas touch is felt.
Long waits send potential diners to tread the cold, cold ground or mill like soju-cocktail-drinking sardines in the front bar. The music blares as loud as it did at Mission Chinese. On a recent night, Tone Loc's "Funky Cold Medina," followed by his "Wild Thing," played so loudly that eardrums, once frozen, were shattered. And once again, Danny Bowien is in the weeds, now turning tacos into cantos.
A Mexican cantina is a strange choice for Mr. Bowien, but he's a man whose choices often seem strange. That this is his first foray into the Mexican kitchen hardly seems relevant. Just as he used Americanized Oriental food as inspiration at Mission Chinese or as Edith Sitwell used the London air raids in "Still Falls the Rain" or as Tone Loc used Van Halen on "Wild Thing," the tacos of Mexico City are just a catalyst for Mr. Bowien's creativity.
If Mission Cantina is occasional poetry, tacos are the occasion. There are a score of them on the menu, plus a handful of starters and sides and, when I visited, two entrees to share. (The menu constantly changes.) Mr. Bowien has said he was inspired to recreate the flavors he experienced on a trip to Mexico City, but the poet-chef uses Mexican cuisine as an open-ended prompt. How else to explain the peanuts that, coupled with tart pickled tomatoes, elevate the beef tongue taco from quasi-food dare to a tonguing revelation? How else to account for the union of braised octopus and chicken wing in a singular mind-blowing taco? This is Mr. Bowien spitballing, free-verse flavor-associating, and it showcases his immense talent.
Sometimes, his touches are subtle, and here they tend toward pickling, which Asians and Latinos love in equal measure. Bright red pickled onions are a frequent taco guest, as they are in most taquerias. But the tomato pickle is a pleasure on the tongue, and the sour-sweet pickled pineapple is both a tongue twister and a tremendous addition to the "al pastor" ($4.50), whose rotisserie pork belly filling is smoky and flavorful.
At other times, he's as creative as a tornado in reverse. The famous Chongqing chicken wings of Mission Chinese are now simply called "chicken wings" ($11), but they are super crispy and remodeled for mole. The mole, in turn, has been made into an arbol chili, chocolate, coffee dry rub—a menacing, sweet, smoky, dark powder—and the wings are drizzled with a cooling crema, dotted with a mild chili vinegar. These are the kung pao pastrami of Mission Cantina. And that "whole rotisserie chicken" ($35) to share is not to share. It's Twix-like in its ability to engender selfishness. Stuffed with rice, chorizo and pecans, drizzled with chicken fat and brown rice vinaigrette, topped with fresh mint and parsley, served on a bed of its own stuffing, it's like the poultry version of Manet's Odalisque. You want to eat it so hard, all night long. And yet there's almost nothing Mexican about it. It's distinctly Bowien and distinctly delicious.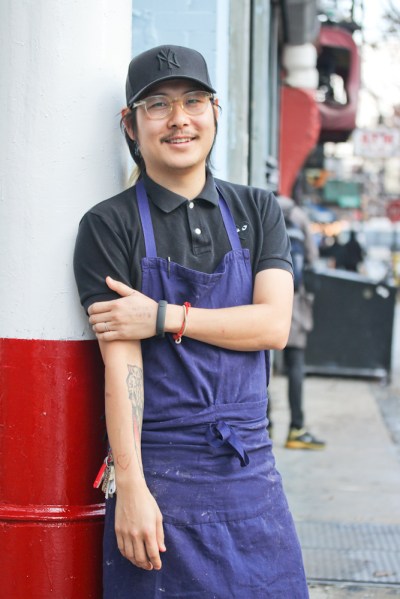 When Mr. Bowien remains faithful to an original, though, he is not found wanting. The "alambres" taco ($5), for example, which is the Mexican equivalent of a cheese steak, made with grilled brisket, bacon, oaxaca cheese, peppers and onions, is just a goddamn great taco. Similarly, the fish taco, whose only fault is that the fillings are too exuberantly generous, is a best-in-show. It hits that sweet note between crisp and moist. He has even taken the time to perfect the lowly chicharrón. His are delicious pork skin bubble wrap, so pretty they could be Christmas ornaments.
The signal dish I kept returning to, though, was the "fresh queso oaxaca" ($8.50), which showcased Mr. Bowien's ingenuity and intelligence. Harking back to the first Dominican monks who arrived in Mexico from Italy and were desperate for mozzarella but made oaxaca cheese instead, Mr. Bowien serves his version freshly made and hickory-smoked, with the usual Italian accompaniments of broccolini, endive, olio nuovo and poblano peppers. It's a Mexican burrata fiesta. It's old. It's new. It's not like anything. It's great.
That Mr. Bowien stumbles is inevitable. A "hokkaido scallop and beef heart ceviche" ($13) was relatively flavorless and texturally unwell. The bone left in the lamb taco seemed like a remnant of foodie aggression. There is no dessert. But these are just quibbles. The main danger I see in Mission Cantina is that Mr. Bowien might lose interest or money (as he did at Mission Chinese New York and continues to do at Mission Chinese in San Francisco, Mr. Bowien donates 75 cents of each entree to charity). Indeed, the place seems provisional, like it'll burn brightly and brilliantly and then for some reason—rats, boredom, because Mr. Bowien can't be restrained or won't compromise or evolves away from the project—it'll close. And all that'll be left is another empty storefront with a note on it reading: I have eaten the tacos that were on the menu, and they were fucking delicious.
RATING: ****