When Lynn Darling moved to Vermont about six years ago, she thought she'd stay there for the rest of her life. Her daughter had gone off to college, and as a widow, Ms. Darling found herself rudderless. Vermont was a new beginning, a fresh start.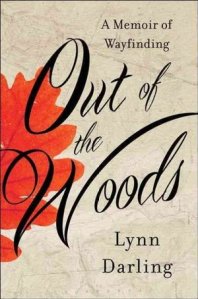 But as she pointed out on Tuesday night at a book party on the Upper East Side celebrating the release of her new memoir, Out of the Woods, which recounts her several years of soul-searching among the evergreens, Ms. Darling found out that she wasn't the "self-contained anchor" she had imagined herself to be. She missed New York, her friends, her roots—and she moved back last year.
"I needed the daffiness of the city and its surprises and its diversity," Ms. Darling said. "I like being in a place where you can find a new city around every corner. You get tired of seeing poached white people everywhere in Vermont."
Ms. Darling, a former reporter at The Washington Post and a seasoned magazine writer, explained that Out of the Woods started as a nonfiction book about direction. But when she discussed the idea with her editor at Harper, Jennifer Barth, they decided to recast it as a memoir, her second to date. (The first was 2007's Necessary Sins, which recounts her romance with her late husband, the reporter and editor Lee Lescaze, who died in 1996.)
"It needed a throughline," said Ms. Barth. "It was like rock tumbling—having these pieces and putting them together."
Ms. Darling was surrounded on Tuesday by friends, family (including her daughter, the impetus for her rural retreat and a reporter at this newspaper) and colleagues, most of them stalwarts of New York and Washington media.
Peter Osnos, the editor and publisher, met Ms. Darling when she was a young feature writer at The Washington Post in 1975. What did he make of the memoir?
"It's a book of deep and very genuine emotional experience," Mr. Osnos mused. "Lynn showed a kind of valor that I think makes the book so ultimately powerful."
Richard Cohen, the ever-talkative Washington Post opinion columnist, sidled up to the conversation.
"Be very careful, Richard," Mr. Osnos said. "He's a reporter."
Mr. Cohen gave a sidelong glance from behind a pair of thick glasses. "Don't write any of this down," he warned.
In a corner of the room, Tom Wallace was talking to The New Yorker's Bill Finnegan. Mr. Wallace, the editorial director of Condé Nast who hired Ms. Darling as a film reviewer for New York Newsday in the late 1980s, cautiously backed up when approached, nearly knocking over a display of fine china behind him. (Interviewing a room full of veteran reporters kind of turns your notebook into a scarlet letter.)
"She's a great writer," he said of Ms. Darling. "I hope this is her second wind, because there's about a half a dozen Condé Nast magazines that could benefit from her work."
Had Mr. Wallace ever thought about getting away from New York too?
He had. After graduating from Harvard University, where he was a classmate of Ms. Darling's, in 1972, he moved to a small town in Vermont, to build houses and bask in his youth.
"I thought it was going to be an adventure," Mr. Wallace said.
But it didn't stick?
"I only lasted one winter there."