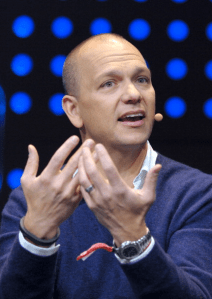 To cap off a day of tree-themed acquisitions, Google has announced it's shelling out $3.2 billion in cash for Nest: a company that makes super smart thermostats and smoke alarms.
Nest, which launched in 2011, aims to "take the unloved products in your home and make simple, beautiful, thoughtful things," according to the company's website. For those of you that don't speak startup, that basically means they replace your junky old impossible-to-use thermostat with one that has motion sensors and WiFi connectivity.
Cofounder Tony Fadell—who will remain CEO of Nest— described the new partnership on the company's site:
"Google will help us fully realize our vision of the conscious home and allow us to change the world faster than we ever could if we continued to go it alone. We've had great momentum, but this is a rocket ship.

Google has the business resources, global scale and platform reach to accelerate Nest growth across hardware, software and services for the home globally. And our company visions are well aligned – we both believe in letting technology do the hard work behind the scenes so people can get on with the things that matter in life. Google is committed to helping Nest make a difference and together, we can help save more energy and keep people safe in their homes."
Google CEO Larry Page expressed his excitement in a press release:
"Nest's founders, Tony Fadell and Matt Rogers, have built a tremendous team that we are excited to welcome into the Google family. They're already delivering amazing products you can buy right now–thermostats that save energy and smoke/CO alarms that can help keep your family safe. We are excited to bring great experiences to more homes in more countries and fulfill their dreams!"
We're not entirely sure what, exactly, these "great experiences" will be. Would we call it "great" when Google determines I'm feeling a little cold tonight, automatically cranks up my apartment heat, and then broadcasts my new body temperature to all my Google Plus followers? (And then gives them my email address too, because hey, why not?)
We guess we'll find out shortly—according to the press release, the deal is expected to close in the next few months.