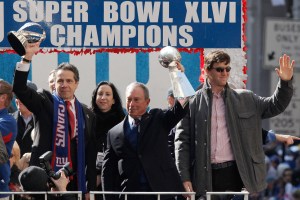 Super Bowl XLVIII will technically be played at the Meadowlands stadium in New Jersey, but Gov. Andrew Cuomo wants to make sure spectators know they're really in New York territory.
Mr. Cuomo, as a co-host of the showdown between the Denver Broncos and Seattle Seahawks, announced plans today to use the venue to boost New York State tourism and products, including the state's burgeoning wine and cheese industry.
"We want to ensure that all of our visitors get the full New York experience by sampling our world class products and getting to know the unmatched beauty of our state," said Mr. Cuomo. "The Super Bowl is our opportunity to show off our state and encourage all of our guests to visit the many locations across New York."
Goodies will include a so-called "video park"–a multi-sensory walkthrough in Times Square that will showcase attractions across the state–homegrown wine and cheese at the Super Bowl media party and tasting events with various New York restaurants. The efforts will cost the state $5 million, allocated from the state legislature.
View the full list of New York events below:
Super Bowl Host Committee Media Party- Tuesday, January 28th
More than 3,500 members of media will be hosted at Pier 60 at Chelsea Piers, in Manhattan. The party will provide an unprecedented platform to feature and promote "Taste NY" products, including food, wine and spirits. The Taste NY station and activation at the Media Party will be among the most prominently featured at the event and will be serving dishes prepared by chef Marc Murphy of Landmarc, using only ingredients made or grown in New York from Cascun Farm, Eli's Bread and McCadam Cheese. The station will also be serving wine and spirits from Wolffer Estate Vineyard, Standing Stone Vineyards, and Prohibition Distillery.

Super Bowl Boulevard- Open January 29th to February 1st
In partnership with the Super Bowl Host Committee, the "I Love NY" campaign will install a Video Park, a multi-sensory walkthrough installation featuring various attractions throughout New York state. Staff from various New York state tourism partners will be on hand to interact with the public and promote tourism in the state. Visitors will also receive an individually numbered ski wicket featuring the Super Bowl Host Committee and "I Love NY" logos along with information on where to learn more about winter activities in New York State. The wickets also contain information on discounts at Upstate ski areas and contests to win ski prizes.

NY/NJ Lounge at Super Bowl Boulevard- Open January 29th to February 1st
The Lambs Club will serve as the venue for the Super Bowl Host Committee's NY/NJ Lounge at Super Bowl Boulevard. They will be serving locally sourced food and New York State beverages and is admittance only with a SBHC-issued credential.

NY /NJ Super Bash- A Night of Thanks- Wednesday, January 29th
The Super Bash, an event to thank all the Super Bowl Host Committee partners involved in the planning and execution of Super Bowl XLVIII , will be attended by 1,000 to 1,500 people and will feature both "I Love NY" decor and Taste NY Products. The main level of Gotham Hall will have a custom "I Love NY" station serving items made with New York State products, such as Murray's Chicken and Gosman's Fish Market that are being used by Pinch Food Design, based in New York. And the mezzanine will feature New York State spirits from Tuthilltown Spirits and wines from Salmon Run Winery and Bully Hill Winery.

Taste of the NFL—Party with a Purpose—Saturday, February 1st
Super Bowl XLVIII marks the 23rd Annual tasting event featuring chefs and NFL players representing all 32 NFL teams. The chefs will be assisted by students from the Institute of Culinary Education (ICE) and CUNY Culinary Arts Program. There will be banners outside of the venue with the Taste NY logo as well as displays of "I Love NY" and "Taste NY" advertising inside. In addition, New York state will have a Welcome Row that includes food from local New York City restaurants. The funds raised at the charity event will be distributed to hunger relief organizations, with emphasis on New York City organizations, including: Bed-Stuy Campaign Against Hunger, City Harvest, Food Bank of Western New York and Food Bank for New York City.

Super Bowl Host Committee Pre-Game Party- Sunday, February 2nd
The NY/NJ Super Bowl Host Committee will throw a 2,500 person pre-game party at Meadowlands Racetrack Clubhouse, with themed rooms such as Greenspaces, Transit, City Life, Boardwalks and Beaches, Home Grown, Towns and Boroughs. New York State food will be featured in the Home Grown room including products from Lobel's Meat Market, Katchkie Farms, Murray's Cheese and Ronnybrook Farm Daily and drinks using spirits from Prohibition Distillery will be served in the Pre-Game Lounge.