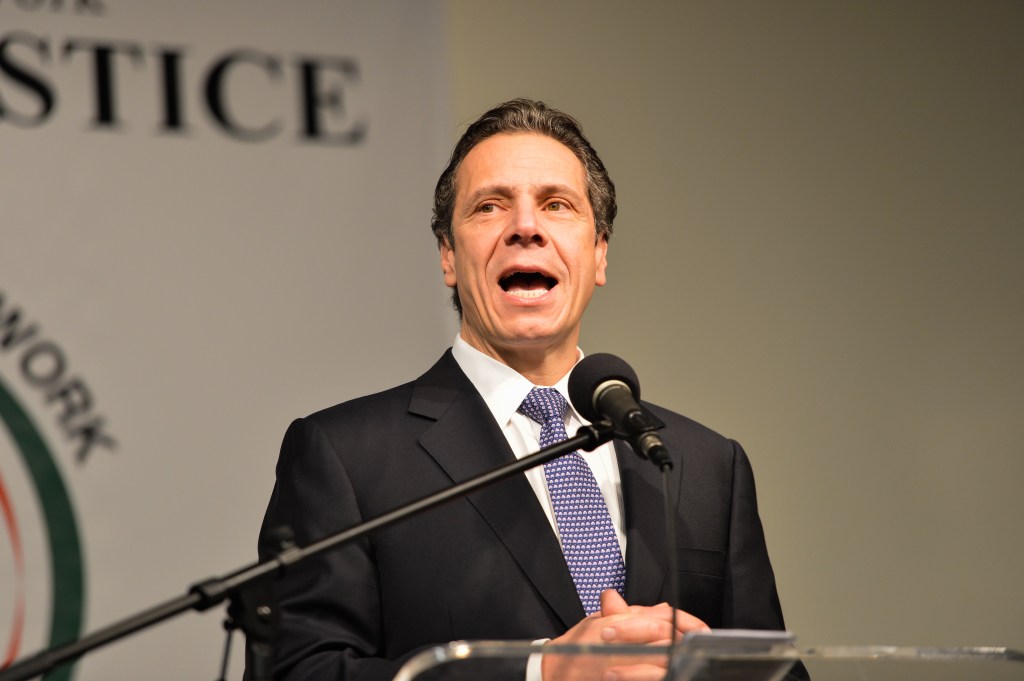 Gov. Andrew Cuomo gave an unusually animated speech in front of Rev. Al Sharpton's National Action Network this morning, at one point borrowing a phrase from the once controversial civil rights leader.
"The reverend used a new term … 'agitation freaks.' I love that one, I love that. Albany has a lot of agitation freaks," the governor told the audience at the House of Justice in Harlem, using the term Mr. Sharpton had coined to describe people who are angry all the time just for the sake of being angry.
Mr. Cuomo, clearly on a roll, continued discussing "agitation freakiness."
"The reverend was talking about us when we were young guys. I think a little bit we had that agitation freakiness goin' on once and a while, reverend, to tell you truth," added the governor, drawing laughs. "I consider us recovering agitation freaks, however. And we are still in recovery everyday."
Speaking on the eve of Martin Luther King Day, the governor later pointed to the transformation of Mr. Sharpton–"now a big national TV star personality"–as a sign of racial progress.
"[He's] not just a national TV star, but a very handsome fashion model TV star," he said dramatically. "Very debonaire, well-dressed, really good lookin' TV star Rev. Al Sharpton. I knew him when, though," he added wistfully. "I knew him back in the day when he was on the corner with a bullhorn and there was nobody around him. And he was not quite as fashionable, let me tell you. I was there … So we have made progress. Just ask Rev. Al Sharpton."
But Mr. Cuomo, who is up for re-election this year, soon shifted to more serious topics, revealing that, back when he worked as secretary of Department of Housing and Urban Development under President Bill Clinton, he was invited by Coretta Scott King to deliver an address from Mr. King's church's pulpit. As he studied Mr. King's work then, he said, he walked away with several lessons.
"Justice is not going to just happen. Justice is not an evolutionary process. Justice happens if we make it happen. The arc of the moral universe is long and it bends toward justice–if we bend the arc," he said.
"Government is about getting things done for people. You know, somehow we've morphed into this situation where government becomes about debates and about press stories and press release. But that's not what it is. It's a vehicle for change. It's a vehicle for action. It is there to make people's lives better now," he said.
He also drew loud applause as he ran through some of his recent initiatives, including state efforts to boost job training for minority youth and close upstate prisons, as well as his proposal to raise the age at which young people can be tried as adults from 16 to 18. And he railed against the stark differences between schools in wealthy and poor districts, declaring education "the civil rights battlefield of today."
For his part, Mr. Sharpton made clear after the speech that he took the governor's comments with a grain of salt.
"All that flattering talk that he gave about me, you do know it's re-election year for the governor," he reminded the audience. "I'll just leave it there."