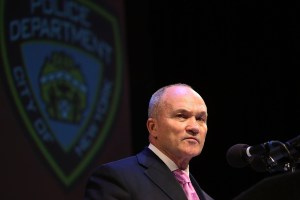 Ray Kelly, the longtime police chief under former Mayor Michael Bloomberg, appears set to land another job in public service.
During Andrew Cuomo's annual State of the State speech today, New York's governor announced plans "to establish the nation's first college on emergency preparedness and homeland security" and has "recruited Ray Kelly to be a special adviser to the state in setting up this school."
Mr. Kelly, an outspoken proponent of aggressive police tactics, is a controversial figure in city politics, and it appeared that some audience members booed his mention before others drowned them out with applause and cheers. Mayor Bill de Blasio, who was a constant Kelly critic during last year's election, was in attendance at the speech today.
Mr. Cuomo's remarks came in the context of pushing for more emergency preparedness in the face of new challenges, including extreme weather and terrorism.
"There are colleges that offer courses in the area," he said, "but we're going to establish the nation's first college dedicated solely to emergency preparedness and homeland security, because I believe that this is a field that's only going to grow. Unfortunately, it's only going to get worse. And we want this college, right here in the State of New York, training our people and training others from around the country."
Before he joined the Bloomberg administration, Mr. Kelly was an anti-terrorism official in Washington.
In addition to his new post, Mr. Kelly was hired to be a "distinguished visiting fellow" at the Council on Foreign Relations and will be traveling the country as a high-paid speaker.
"Ray Kelly has phenomenal experience in terrorism and homeland security, and we're honored to have him," Mr. Cuomo said.