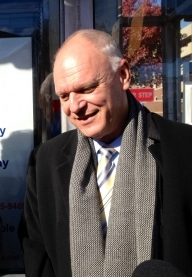 ATLANTIC CITY – This beleaguered gaming capital swore in a new mayor Wednesday amid the usual hoopla of "a new beginning,'' then promptly had to turn its attention to the same old problem that has plagued it for years: revenue, and the fact the town does not see as much of it from casinos as it used to.
Minutes after Republican Don Guardian took the oath of office from Congressman Frank LoBiondo in a packed council chamber, the new council found itself forced to make decisions on lingering and sometimes contentious issues.
As Guardian took his seat, the council had to make difficult decisions on accelerated tax sales and approving a temporary budget to pay salaries and contracts in the near term all the while realizing that in the long term more unwelcome financial news looms depending on the fallout from the $50 million Borgata tax appeal case and eventual new tax valuations.
But at least one prominent political figure here found cause for optimism, that things might be poised for positive change in this culturally diverse city of some 35,000 that is one of New Jersey's most closely watched municipalities.
"The governor will now have a mayor that he can work with,'' said George Gilmore, chair of the Ocean County Republicans, as he took a swipe at the now-ended Lorenzo Langford years.
Indeed, Guardian, an environmental services veteran who also worked for the Casino Reinvestment Development Authority, talked today of handling both the big and little chores simultaneously: addressing casinos' legitimate complaint of being shackled to out-of-date assessed valuations while at the same time making sure the streets are cleaned regularly.
"In the short term, we can't be raising taxes,'' said Guardian, an openly gay Republican mayor who said he already has been in touch with Gov. Chris Christie and Senate President Steve Sweeney as he prepares to find ways to move the city forward in an economy that is vastly different from the one in existence when gaming arrived here in the 1970s.
In the long term, he said, there is a recognition that casinos in Atlantic City have to draw new clientele in order to fill the rooms from Sunday to Thursday for the people interested in pursuits other than blackjack.
"The casinos in Pennsylvania and Delaware, they've gone flat, too,'' he said.
"This is a critical period to fill these rooms,'' Guardian said. "They need to add retail, entertainment."
The city bleeds revenue from losing tens of millions of dollars as casinos win tax appeals – "possibly hundreds of millions by the time this is done,'' said state Sen. Jim Whelan today before Guardian was sworn in.
The veteran senator, a former Atlantic City mayor himself, foreshadowed what Gilmore said later, that relations between the city and state under Langford were not what they could have been.
Guardian talked today of utilizing the transitional aid application process, state aid programs, and $30 million in casino marketing funds, and has talked at a town meeting with residents of eliminating duplicated services, conducting an energy audit, and other efficiencies.
He has given credit for his successful – and to some folks surprising – victory to the city's ethnic diversity, and prior to his swearing in today greetings were issued in a variety of languages, among them Russian, Vietnamese, Arabic, Bangladeshi, Chinese and others.
Once, Atlantic City was the regional gaming mecca. Those day are gone. Neighboring states have their own one-armed bandits galore, there is pressure from northern N.J. lawmakers to expand gaming into their districts, and the red ink due to casinos' tax appeals means the problems can't be cured overnight.
But Gilmore made it clear the effort is necessary because if Atlantic City fails, it won't be sinking on its own.
"Southern Ocean County grew with the success of Atlantic City,'' Gilmore said as hundreds of Guardian supporters applauded the new mayor today.
A lot has been placed on the new mayor's shoulders.
Guardian is expected to lead a new cooperative spirit among local, county and state officials to spur "Atlantic City's success not only as a casino town, but to make it a destination not only for the next five years, but for the next 100 years," Gilmore said.