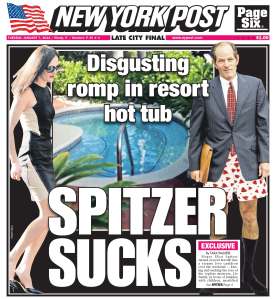 The war between the city's tabloids warmed up last night when Confidential, the Daily News's gossip page, posted an item refuting "new stories making the rounds" that ex-Gov. Eliot Spitzer and his political operative girlfriend got frisky in a public hot tub on their recent trip to Jamaica.
Later in the night, the Post posted today's front-page story alleging that Mr. Spitzer sucked on the toes of a topless Lis Smith in front of children at the resort where they stayed over the weekend.

According to sources at the News, the paper heard that at least one right-wing antagonist was promoting the Spitzer story before it published. After looking into it, the sources said the News concluded that it was a cheap hit on an easy target and deemed the Post's sources dubious, as no one at the hotel knew anything and there were no photos despite the allegations taking place in public during the afternoon.
Shortly before the News posted its story, GOP political consultant (and longtime Spitzer antagonist) Roger Stone tweeted at Ms. Smith with a reference to the story: "hot tub?" The timing of Mr. Stone's tweet raised the allegation that he was the source, a charge he denied this morning.
As the battle between the tabloids erupted on Twitter, some also raised questions about the wording of a quote in the story from an anonymous ten-year-old child. "So are we really buying the scene of a 10-year-old running around the resort yelling about topless toe sucking then people gather to gawk?" a News reporter asked on Twitter. 
And, as the News pointed out in its piece, public displays of perversity are hardly Mr. Spitzer's style: "Say what you will about Spitzer, he's always gone to great lengths — and expense — to be discreet."