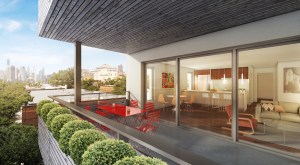 In Manhattan, one-bedroom apartments are becoming ever-more difficult to buy, as the New York Times reported recently: "As the recession roiled the market, one-bedrooms encountered strong headwinds; many of the first-time buyers drawn to these starter apartments were unable to get loans, which caused units to linger and dip in price," they wrote. "Since then, in the last couple of years, as the housing and lending markets have improved, one-bedrooms have practically flown off the shelves." And new developments are offering little in the way of redress; as families increasingly invest in units with capacity for children and the rising price of land makes one-bedrooms prohibitively expensive, developers have grown more inclined to populate buildings with larger apartments.
The trend is not confined to any particular corner of the island; recent offenders include 71 Laight Street in Tribeca, Chelsea's Walker Tower and Extell's One57. And if the condos at 255 Columbia Street, in Brooklyn's Columbia Waterfront District, are any indication, it seems to be crossing the river.
The building, which is 80 percent sold, houses 13 condominiums, the smallest of which have two bedrooms. Two units remain available, including the building's least expensive, with an asking price of $975,000. (The other, a three-bedroom, can be had for $1.475 million.) Donald Brennan, principal at Brennan Realty, which specializes in "Brownstone Brooklyn" neighborhoods like Cobble Hill, Carroll Gardens and Brooklyn Heights, recently told us that pricing at the building was well-calibrated to the neighborhood, offering better deals than buyers might find east of the BQE—which separates the district from Cobble Hill and Carroll Gardens—and closer to public transit hubs. "There's a bus that runs right down [Columbia Street]," he said. "But it is quite a walk to the Smith Street line. It definitely stretches the envelope of walkability."    
Standing, as it does, within a few blocks of the brownstone-lined, stroller-filled streets of Mr. Brennan's domain, 255 Columbia Street's lack of one-bedrooms is not terribly surprising. The neighborhood is "hip alternative to the suburbs" Brooklyn, not "40 artists sharing a firetrap of a loft" Brooklyn. No strangers to hipness, HPI Development, which is behind the building, has outfitted it with Passive House design, enabling energy efficiency, noise reduction and "a steady stream of fresh filtered air." There are walnut floors and high-end appliances, and "a reclaimed wood canopy" occupying the buildings entryway, creating "a warm and elegant sense of arrival, encompassing its intimate and green sense of living." (What that last bit means, exactly, we cannot say; but it ought to help buyers feel pretty pleased with themselves.)
 "I think it's an interesting type of product to deliver to marketplace," Mr. Brennan said. "Brownstones aren't traditionally very green because of their bulk and the size of their windows." But outside nearby landmarked neighborhoods, guidelines for new developments are much less restrictive. The Columbia Street Waterfront, which remains zoned largely for commercial use, also lacks zealous and finicky neighborhood associations that might balk at high-density, modernist design.  "It's the right place for it as far as I'm concerned," Mr. Brennan said.       
HPI's Ben Igoe said in the release that "Buyers have responded not only to the building's sought-after waterfront location, but also to our commitment of delivering healthy and energy efficient homes to the community." And the bicycle storage room can't hurt, either, what with that long commute to the subway. After all, even the most health-conscious and environmentally-friendly buyers appreciate a swift ride home at the end of a long day.