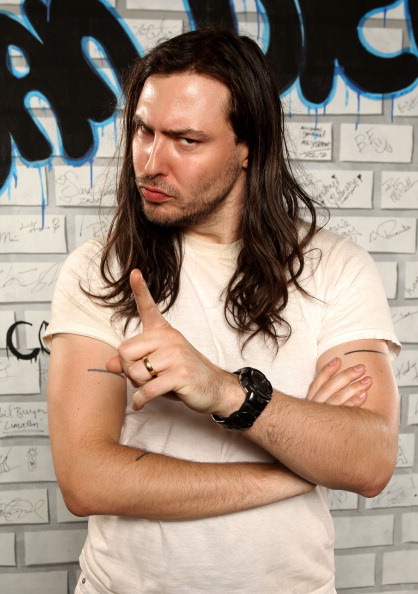 Having come off a grueling, eight-month-long tour in 2013, Andrew W.K., the wildly extroverted singer and musician, is, for the moment at least, thinking harder than he's partying.
It was only a matter of time. Mr. W.K. signed a deal last year with Simon & Schuster to write his first book, The Party Bible, a motivational guide to—what else?—partying, and he is only now getting around to starting it. For the past couple of weeks, he has been hunkering down in his NYC apartment, focusing on that and a new weekly advice column, which began appearing in the Village Voice at the beginning of the year.
Mr. W.K. (né Wilkes-Krier) has never worked on a book before—he wouldn't talk too much about The Party Bible, as it's still in its infant stage—but the regularity of his new column, he said, strengthens his writerly resolve and lets him dig more deeply into issues he might consider for his forthcoming guide.
"There's not usually a question I wouldn't answer," Mr. W.K. said in an interview last week. "I think the fun-loving party attitude creates a very low-pressure atmosphere in which we can talk about all kinds of stuff."
Mr. W.K. is no stranger to giving advice. For 10 years, he wrote a monthly column for the Japanese music magazine Rockin' On. He hosted a self-help reality show on MTV2 called Your Friend, Andrew W.K. in the mid-aughts. And he has been giving motivational lectures since 2005, when New York University asked him to do a talk at the school's Skirball Center for the Performing Arts on any subject he desired.
"The freedom was really inspiring," Mr. W.K. said of the first lecture, "and reminded me of the feeling I would get from music itself and maybe that just talking about life could conjure up the same possibility and excitement that I would work to get through in a song."
Since Mr. W.K. began his new advice column, he has taken on a variety of topics, such as relationships and all their attendant woes, the challenge of self-actualization, partying (of course) and weight loss. ("PARTY LARD!" he wrote to a person who asked how to stay in shape.) 
"It's very therapeutic for me as well," he said, "because, otherwise, I wouldn't think about these sorts of ideas or questions as literally and as directly.
"Even if we don't come up with definitive answers or even, for better or worse, useful information," he continued, "sometimes thinking about the question at all is good enough."
Mr. W.K. said he had recently been flipping through Martin Buber's I and Thou for inspiration. 
"It's just a fun jumping-off point," he explained. "I feel, in a way, that every effort human culture makes, every book, every song, every decision, every action, is somehow going after the same thing," he added, getting lofty. "Trying to find out what's really going on, what is really the truth of the truth."
If that high-mindedness puts you off, don't worry. Mr. W.K. takes his writing seriously, but his motivational technique is most often leavened with his signature style of ironic humor.
"I've never felt like I was very good at humor in a traditional sense," Mr. W.K. said. "But everything is inherently absurd, so trying to avoid that, to somehow think that things are more important or more powerful or more impressive if they're serious, is just kind of embarrassing. It's just more fun not to be too serious all the time."
He checked himself. "But within that," he added, "I take fun very seriously."