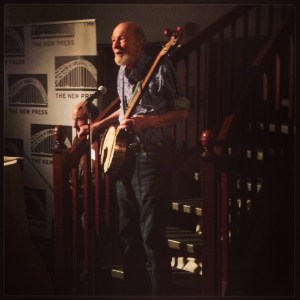 Beastie Boys Square fell through, but maybe the river tides will change for Pete Seeger.
One municipal official of Westchester County is proposing naming the new Tappan Zee Bridge after the late folk musician and political activist, who died Monday of natural causes at age 94.
Greenburgh Town Supervisor Paul Feiner thinks honoring Mr. Seeger in this way would be a fitting memorial for the long-time advocate for an unpolluted Hudson River.
He plans to write Gov. Andrew Cuomo and members of the state legislature to urge them to change the name of the new bridge.  
Mr. Feiner hopes naming the bridge, expected to be completed in 2018, after Mr. Seeger would inspire those who cross it to keep the river clean.
Mr. Seeger, who lived along the Hudson in Beacon, N.Y., found the issue of the river's pollution close to home and spent decades fighting for the clean up, preservation and protection of the industrially polluted river.
In the late 1960s, Mr. Seeger founded Clearwater, a river-sailing environmental group, and built a 106-foot replica of the 18th- and 19th-century vessels that sailed the Hudson. Clearwater took their ship out on the Hudson, sailing to promote the group's cleanup campaign and provide environmental education.
Since their initial bon voyage, the group has continued to make strides to clean up the river, taking on other causes and receiving dozens of awards for their initiatives.
Many are backing Mr. Feiner's push—a Facebook group and online petition supporting the cause has already been created.
To the idea of the honoring, one petition signer said, " What beautiful music that would be!"