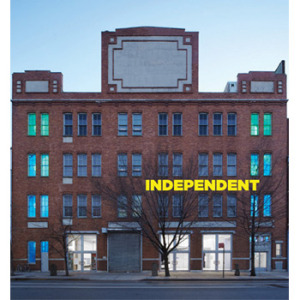 Independent, an art fair and "exhibition forum" held in the former Dia building in Chelsea at 548 West 22nd Street during Armory Week, will return for its fifth edition this year, under some new management. Laura Mitterand will take over as director, and Kristina Valberg, who has previously worked with the performance-art biennial Performa, will serve as the gallery and artist liaison. The architectural design of the exhibition spaces will be handled by Andrew Feuerstein and Bret Quagliara.
There are more than 50 galleries from all over the world, including a number of returning participants, though some new additions include OKO, the East Village storefront outpost of Luxembourg & Dayan, Mari Spirito's nonprofit ProtoCinema, the Lower East Side gallery Ramiken Crucible and Karma bookstore.
"At Independent we seek to further examine how the art industry and art community of cultural producers can engage productively and dynamically, by offering highly-curated and conceptually-strong installations that seek to foster dialogue as well as contribute mindfully to the global market," Elizabeth Dee, the Chelsea art dealer who co-founded Independent, said in an email. "We want visitors to Independent to be able to critically reflect, socialize, and view the art world in the context where artists and ideas can still be put first."
The fair runs March 7-9, with a private preview on March 6. The full exhibitors list is below.
47 Canal (New York)
Christian Andersen (Copenhagen)
The Approach (London)
Art : Concept (Paris)
Artists Space (New York)
Balice Hertling (Paris)
The Box (Los Angeles)
BQ (Berlin)
Broadway 1602 (New York)
Gavin Brown's enterprise (New York)
Campoli Presti (London / Paris )
Galerie Mehdi Chouakri (Berlin)
Elizabeth Dee (New York)
Gaudel de Stampa (Paris)
Herald St (London)
House of Gaga (Mexico DF)
Karma (New York)
kaufmann repetto (Milan)
Anton Kern Gallery (New York)
KOW (Berlin)
Andrew Kreps Gallery (New York)
Labor (Mexico DF)
Galerie Emanuel Layr (Vienna)
Wilfried Lentz (Rotterdam)
David Lewis (New York)
Ignacio Liprandi (Buenos Aires)
Maccarone (New York)
Gió Marconi (Milan)
Martos Gallery (New York)
McCaffrey Fine Art (New York)
Mendes Wood DM (São Paulo)
Meyer Kainer (Vienna)
Meyer Riegger (Karlesruhe / Berlin)
The Modern Institute (Glasgow)
Murray Guy (New York)
Galerie Nagel Draxler (Berlin)
Galerie Neu (Berlin) / Neue Alte Brücke (Frankfurt)
Franco Noero (Torino)
Office Baroque Gallery (Brussels)
OKO (New York)
Peres Projects (Berlin)
ProtoCinema (New York / Istanbul)
RaebervonStenglin (Zürich)
Ramiken Crucible (New York)
Real Fine Arts (New York)
Kerry Schuss (New York)
Société (Berlin)
Sprüth Magers (Berlin / London)
Stuart Shave Modern Art (London)
Supportico Lopez (Berlin)
Three Star Books (Paris)
Untitled (New York)
Vilma Gold (London)
Michael Werner (London / New York)
White Columns (New York)
Galerie Susanne Zander (Cologne)