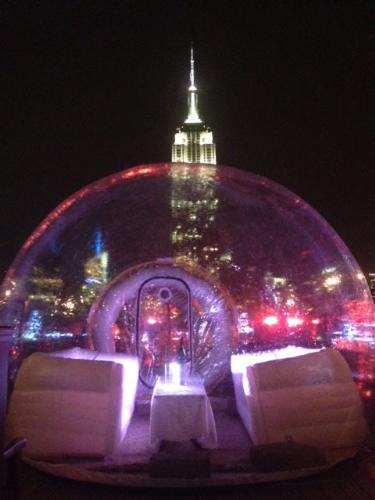 Igloo party tents totally make rooftop bars a little bit cooler.
You can finally ditch that old bar stool and drink your appletini all from the comfort of a heated plastic bubble.VIP tables and bottle service just can't compare to the bubble tents at 230 FIFTH's Rooftop Garden and Penthouse Lounge. 
The four transparent bubble tents, featuring 360 degree views of Manhattan, can be privately booked for parties of up to twelve and can be reconfigured for different occasions from Super Bowl parties to romantic Valentine's day dinners for $500.
"The tents – or FIFTHgloos as we're calling them – give a new, whimsical all-weather winter dimension to the roof deck.  Everyone who sees them wants to reserve one, because they're so completely unique!"  Sal Rozenberg, director of 230 FIFTH said.
The FITHgloos, are impervious to wind, rain and snow, so don't fret if your booking happens to fall on round three of the polar vortex.
The weather-proof tents, originally designed for camping, have been used for hotel rooms in France, beach cabanas in California, and street promotions in China, but never for a rooftop bar.  
Leave it to NYC to be the first to turn these tents into somewhere we can drink.