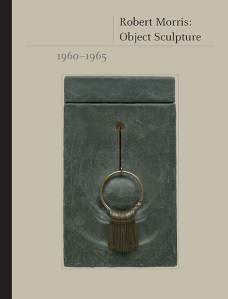 Robert Morris is pretty famous for not being such a big fan of giving interviews these days. As he explained pretty clearly in a catalogue essay a few years back:
"Minimalism does not need to hear from me. I do not want to travel to distant places to give talks about art I made yesterday. Contemporary art is making enough noise without me. I do not want to be filmed in my studio pretending to be working. I do not want to participate in staged conversations about art—either mine or others past or present–which are labored and disguised performances. I do not want to be interviewed by curators, critics, art directors, theorists, aestheticians, aesthetes, professors, collectors, gallerists, culture mavens, journalists or art historians about my influences, favorite artists, despised artists, past artists, current artists, future artists."
It's a nice surprise, then, to find an interview between Mr. Morris and scholar Jeffrey Weiss in the catalogue raisonné of his 1960–65 "object sculptures" that Yale University Press is releasing this month. In it, Mr. Weiss, who worked with Clare Davies on the book, asks him about the time he spent as an M.A. student in art history at Hunter College in the early 1960s. It turns out that he had a dream team of teachers there (future MoMA chief curator William Rubin, Leo Steinberg, Ad Reinhardt!), and that he sort of dragged his feet finishing his Brancusi dissertation. Did it inform his work? Fun stories, and some answers, below.
"Actually I would never have finished that thesis on Brancusi if Bill Rubin had not hounded me. Don't know why he did this. He kept calling me up after he had left Hunter and was at MoMA, asking why I had not finished it. I also had a class with E. C. Goosen at Hunter which was lively (I argued against Greenberg, Goosen defended). Then there was a seminar with Leo Steinberg. In the first class he went on about the spiritual in Michelangelo, illustrating contrapposto with dance-like narcissistic poses. I raised my hand and said the term 'spiritual' should be excluded from today's art discourse. He never forgave me. I think I was the only one in the seminar who got a 'C.' I once showed him some photos of my gray plywood works and he said, 'Well, it's about death.' Ad's seminar on Japanese art was a riot. First thing he said was 'I give everybody a B, except those people who try not to get a B.' Then he said he was going to back up a little and start with India, go on to Southeast Asia, then China and Mongolia, come down through Korea, and then get to Japan. When asked why, he replied that all those cultures had influenced Japan. I got to know Ad through that class. It was the best thing that came from my spending time in graduate school. I don't know if Ad 'informed' my studio practice. I think he affirmed what I was doing without being condescending about it. I mean he was the master and I was just a nobody."
The book, which was about four years in the making, is a beauty, rigorously documenting the more than 100 very strange objects that Mr. Morris made in those years, which are filled with rulers, knots and other tools. It's out on Jan. 28.
Update, 1:20 p.m.: Oh wow, it's raining Robert Morris interviews today. Interview has a new one with him and Wade Guyton.