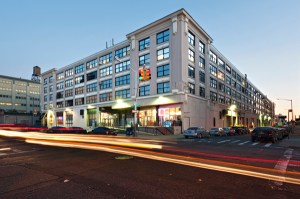 When Jamestown Properties bought the Falchi Building, a 600,000 square foot former warehouse and distribution center in Long Island City, for a reported $80 million in 2012, there was much speculation that the mixed-use industrial space would become an outer borough version of Chelsea market, which Jamestown also owns.
Not quite, Jamestown COO Michael Phillips told The Observer on the phone recently, although Chelsea Market and the Falchi Building share more than a few of the same characteristics—like Chelsea Market, the Falchi Building is occupied by tech, engineering, small manufacturing and media companies, as well as artisans and, as of this November, international food vendors. Like Chelsea Market, Falchi also occupies a full block—perfect for meandering shoppers looking to graze their way through a day of shopping. Furthermore, developer Irwin Cohen, who transformed Chelsea Market into the artisanal mecca that it is today, also owned the Falchi Building at one point. Not to mention that it's located in a neighborhood that, like the Chelsea of 20 years ago, is heavily industrial but with a quickly growing residential population attracted to its accessibility and waterfront views.
"Well, maybe it is kind of like Chelsea," said Mr. Phillips, conceding that the developments did share more than a few similarities.
But then, there are few new mixed-use developments that do not bear the traces of Chelsea Market, from Brooklyn Flea and Smorgasburg to the recently-opened Gotham West, the almost-opened 1,000 Dean in Crown Heights and Anthony Bourdain's just-announced international food market.
And since Jamestown bought the building, the mix has skewed significantly more tech-oriented and artisanal; alongside the United Nations and watchmaker Tourneau, who moved in when Chetrit owned the building, there's now Turkish Radio, Artcore Fine Art Services, which handles fine art shipping and logistics, Webline Design, L'Arte del Gelato, Artisanal Cheese and the Aaron Group, which makes jewelry.
Moreover, Food Box, the restaurant pop-up that opened in November, has brought Kolache Co., Recafo (Caribbean cuisine), Jessy's Pastries (empanadas and alfajores), and Khao Man Ghai NY (Thai food).
"It's a compelling area for businesses," said Mr. Phillips, citing the arterial access to Manhattan, the presence of LaGuardia Community College and the soon-to-be-built Cornell Tech Campus. "I think it offers a variety of experiences to someone who wants to run a profitable business."