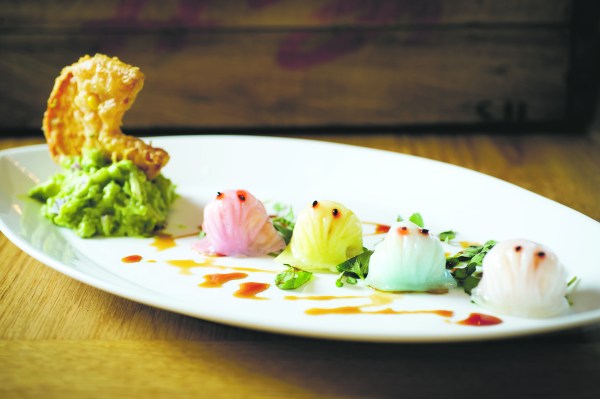 "Who doesn't want to sleep with Sheryl?" asked the man to my left. "But Rick?"
The man shuddered at the thought, and the piece of barbecue beef clutched in his chopsticks dangled like a modifier, terrified.
"Even the thought of Rick watching from the corner turns me off," agreed the man's friend, who sat opposite him at the communal table at the new RedFarm on the Upper West Side.
The two diners were discussing a pair of co-workers rumored to be swingers. Judging by their cashmere blazers and large, angular watches, both worked in the financial services industry. Later, over spectacularly fragrant pork chops, they discussed upcoming vacations in Aspen, followed by the NFL playoffs, derivatives and Sheryl again. Subjects marched briskly by as if ordered by some silence-hating dictator, the conversation flitting from topic to topic as the men searched for a combination to unlock their camaraderie.
One thing unremarked upon was the food sitting before them—the aromatic pork chops, the barbecue beef fried rice, a cinematic salad of dayboat tuna, blueberries and jicama.
Had it occurred to them, they would have had plenty to discuss. Here, as they have downtown, Ed Schoenfeld, a jolly, Brooklyn-born, Chinese food-obsessed Jew, and Joe Ng, a Hong Kong-born, Park Slope-raised prince of dim sum, have gotten deliciousness down to a Henry Ford-level of automation. Almost everything that emerges from the kitchen is likely to be some of the best Chinese food you'll ever have.
That RedFarm is such a well-oiled (though not greasy) machine is a good thing too. The restaurant is as crowded as the downtown 1 train at rush hour. On the night I visited, well-heeled diners stormed the entrance like brigands on castle ramparts. If Messrs. Schoenfeld and Ng didn't know how to give their clientele what they wanted night after night, they'd have a room full of angry people used to getting their way. And that's a spectacle more terrifying than fucking Sheryl while Rick watches.
When RedFarm gets knocked, it's usually for being Chinese Food for White People. In the case of its Upper West Side location, it's Chinese Food for Old Jews (over a few visits, I saw Richard Kind, the archetypal nebbishy actor, and überjew Eli Zabar), with a clientele that makes the West Village look gritty and diverse. The madding crowd, in their Brooks Brothers button-ups, fill the restaurant with Shearith Israel behind-the-bima gossip and sentences that begin, "I heard on Leonard Lopate today …" The only Asians I saw, apart from the waitstaff, were a young Indian couple. ("Ew, preserved vegetables," I heard the woman say. "What does that even mean?")
Some of this has to do with the demographics of the neighborhood and some of it with the price point of the menu. This isn't the Golden Shopping Mall in Flushing, where $4 gets you 12 dumplings. It's the Upper West Side, where $12 gets you four dumplings.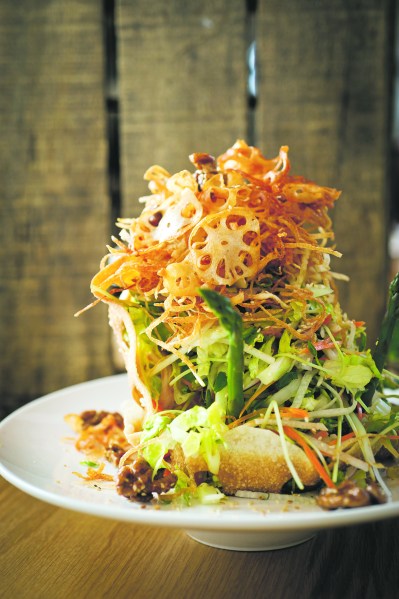 Charges of inauthenticity don't stick, however, mainly because RedFarm doesn't represent itself as something it is not. Like other restaurants, such as ABC Cocina and Mission Cantina, RedFarm draws inspiration from folk cuisines but gleefully bends them to a new culture, a different demographic and changing tastes. This isn't Elvis singing Big Mama Thornton's Hound Dog. It's Stravinsky using an old Russian folk song in Le Sacre du Printemps.
The other defense is that Chinese food has been accommodating the White Man's palate ever since it arrived in America. It started during the Gold Rush with Chinese restaurants in San Francisco catering to intrepid Westerners as well as immigrant laborers. By the 1880s, New York too had restaurants like Chung Fah Low, described as "the Chinese Delmonico's of New York," and the bohemian hangout Mong Sing Wah, a Mott Street chop suey joint.
But the most malign consequence of the inauthenticity critique is the injustice it does to the genius of Mr. Schoenfeld, a chef but not the man in the kitchen, and Mr. Ng, who is the man in the kitchen.
Mr. Schoenfeld is probably the city's preeminent scholar of Chinese food. In the late 1960s, he fell in with a group of elite Chinese chefs who had fled China after the fall of Chiang Kai-Shek and "brought with them a mastery of fine Chinese cooking we had never seen," Mr. Schoenfeld has said. Living at 99th and Broadway at the time, Mr. Schoenfeld befriended people like David Keh, the inventor of General Tso's chicken, and Tsung Ting Wang of Shun Lee Palace, who taught him the raffiné cuisine of Chinese banquets.
Some of this knowledge makes its way to RedFarm's menu in dishes like shrimp-stuffed chicken ($27), which with its golden crust of crispy chicken skin atop a bifurcated shrimp-and-chicken stratum looks like a cross-section of some delicious geological formation. The shrimpiness of the shrimp and the sweet meat of the chicken, two complementary textures, ping-pong off each other pleasingly. The skin is so crisp it could be tulle.
Other, more common dishes, like the grilled shrimp hot-and-sour soup ($12), are sexed up by Mr. Ng's uncommon knowledge and subtle ingenuity. A million little tweaks, such as thickening the broth with potato starch rather than cornstarch, and suddenly a dish that has long been denigrated as simpleton's fare is exciting. Mr. Ng's hot-and-sour soup is so good I want a waterbed filled with it, so when I'm dreaming of it, I only need to poke a hole, and out it'll spurt. Sheryl, Rick and I will be doused in the stuff.
But the signal achievements of RedFarm by far are its dumplings and meats. The dumplings, micron-thin and perfectly uniform in thickness, are mostly a matter of personnel, namely Yao and Mario, a pair of young Chinese men who make them in the back kitchen eight hours per day, six days per week. As for the meat, whether chicken, pork or steak, Mr. Ng performs an intricate dance based on Chinese and Western traditions in which it is soaked in a soy and fresh papaya marinade for 12 to 24 hours, then seared, cooled, grilled and finally served, velvety and subtly sweet, to a diner who eats it while talking about something else entirely or, not talking, eats it while surreptitiously checking his phone under the table.
To manhandle John Prine, how the hell can a person go to RedFarm in the evening, wake up in the morning and have nothin' to say?  There's a lot to talk about, and that it's rarely even addressed by the people consuming it belies a major flaw.
Mr. Schoenfeld has an unsubtle, Rob Reiner-ish sense of humor that undermines the seriousness of his food. Instagram has been overrun with images of "Pac-Man" dumplings ($12.50), a RedFarm appetizer that features multicolored shrimp dumplings pursued by a fried sweet potato Pac-Man kept erect by guacamole. Not all restaurants have to be sober, but it's hard to take food seriously if it looks like it belongs on the IHOP kid's menu.
I was also bothered that the servers show little interest in explaining or even describing the dishes, part of which, I'm sure, is that no one wants a pedantic experience at a restaurant but which makes it feel as if Mr. Schoenfeld doesn't want diners to see beyond the walls of his restaurant. Mr. Schoenfeld himself told me he sees RedFarm primarily as a food brand, envisioning RedFarm soy sauce, RedFarm rotisserie chicken and RedFarm miso paste in stores. It's a great idea, but I can't help wondering if he's doing a disservice not just to the culture he professes to love but the clientele he serves, who come away without a broader interest in Chinese food—only a loyalty to RedFarm. If only Mr. Schoenfeld could find a way to create delicious food and spread the bounty of his cultural knowledge. Now that would be something to talk about.
RATING: ****