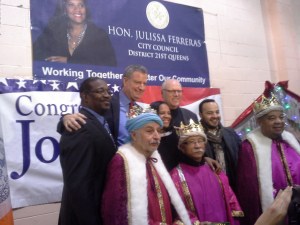 Mayor Bill de Blasio and Congressman Joe Crowley clashed in the backroom contest for City Council speaker. But the latter says it's all good now.
Mr. Crowley, who chairs the Queens Democratic Party, told reporters this afternoon that he's not dwelling on the speaker's contest, where he was outmaneuvered behind the scenes by Mr. de Blasio and now-Speaker Melissa Mark-Viverito. The race culminated in a unanimous vote for Ms. Mark-Viverito last week.
"What's behind us is behind us, we're moving ahead, we're moving forward," Mr. Crowley said at a Three Kings Day event in Corona, Queens that the mayor attended, too. "The mayor has an incredibly large agenda ahead of him and for us as well and I'm focusing on my work in Washington to do my job to see if we can turn this country around."
While Mr. de Blasio backed Ms. Mark-Viverito, Mr. Crowley and a large contingent of his Queens delegation supported Councilman Dan Garodnick for the high-power position. Even after Ms. Mark-Viverito declared victory in December, claiming she had the votes needed to become speaker, Mr. Crowley dug in his heels, comparing Ms. Mark-Viverito's early declaration to President George Bush's infamous "Mission Accomplished" banner for the Iraq War in 2003. He also spoke dismissively of Mr. de Blasio at the time, telling reporters the mayor was, "very, very comfortable in the back room."
With Queens Councilwoman Julissa Ferreras, an early Mark-Viverito backer who ultimately bucked Mr. Crowley, standing nearby, Mr. Crowley also said he thought his delegation would hold onto at least some of its old  leadership positions in the council, despite the bitterness of the race.
"We've all been in political bouts before. I've won some, I've lost some," Mr. Crowley told Politicker. "Dan Garodnick I think proved himself to be an incredibly viable candidate, at the same time proved himself I think to be an even more gracious legislator when he conceded on the floor of the City Council. I have no regrets about my support of Dan Garodnick and I wish Melissa nothing but the best."
Mr. Crowley's reconciliation with Mr. de Blasio did not mean, however, that he would commit to supporting the mayor's signature proposal: a tax hike on the wealthy to fund universal pre-kindergarten. The state legislature and the governor must ultimately sign off on the hike and Mr. Crowley said he would not meddle in their affairs.
"That's an issue for the state legislature to take up," Mr. Crowley said, noting that he endorses the general idea of universal pre-K. "At this point, I would not want to put my legislators in a more difficult position than they are now. That's something they're gonna have to grapple with and come to a determination on."