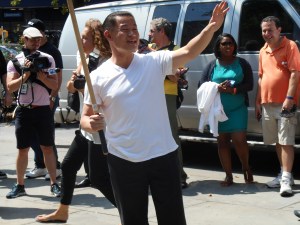 Could John Liu be running for Congress?
The indefatigable ex-comptroller, who ran an unsuccessful bid for mayor, has been the subject of still-undefined rumors that he's contemplating a primary bid against Queens Congresswoman Grace Meng, a fellow Democrat.
Pressed with repeated phone calls, texts and direct questions asked of his spokesperson through email, Mr. Liu wouldn't deny his interest.
"So rumors continue to abound," the spokesperson responded, rather vaguely, in response to Politicker's direct inquiry, adding no further details. Messages left on Mr. Liu's phone this morning have gone unreturned.
Unlike other elected officials who lose high-profile bids for office, Mr. Liu has not left the public eye. Former mayoral rivals like Christine Quinn and Bill Thompson are rarely seen or heard from, but Mr. Liu has maintained a busy public schedule, kept at least one volunteer staffer and has appeared at the inaugurations of various new council members. He recently told Politicker that he had not made up his mind about his next move and wasn't ruling out public service in some form.
Many political insiders in Queens say Ms. Meng's congressional seat represents a logical next step for Mr. Liu after netting only 7 percent of the vote in the Democratic mayoral primary. If Mr. Liu ever wants to run for mayor again, he will likely need an elected office to remain visible, sources argued.
While the odds still appear very long that Mr. Liu will ever takes the plunge, he was a furious campaigner and remains immensely popular in the Asian communities of the district, which includes neighborhoods like Flushing, Forest Hills and Bayside.
His bid would face steep challenges. Ms. Meng, elected only two years ago, is still an incumbent with a proven ability to fund-raise, and the local political establishment would likely rally to her side. Mr. Liu's political brand also took a serious hit when his campaign treasurer was found guilty of orchestrating a straw donor scheme on his behalf.
"John has deep ties in Queens, and there's nobody who works harder. But I can't see any good reason for voters in the 6th District to dump Grace," a Queens Democrat told Politicker. "She's done a great job for the community so far, and she's got real boots on the ground in a broader area than John does. I just don't know what his argument will be, other than, 'I'm John Liu.'"
Ms. Meng did not immediately return a request for comment.
Update (5:43 p.m.): Mr. Liu took to Twitter to take issue with the framing of this story, but again did not deny his rumored intentions.
"Ignoring unfounded rumors is not affirmation, denial, nor refusal to deny," he tweeted.
Additional reporting by Colin Campbell.