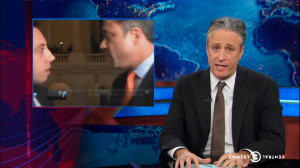 The Daily Show and its host, Jon Stewart, skewered Staten Island Congressman Michael Grimm last night for threatening to throw a NY1 reporter off a balcony after the president's State of the Union address earlier this week.
"To be fair, 'I will throw you off this fucking balcony' is a relatively standard and traditional Staten Island goodbye,'" Mr. Stewart remarked. "I've been there quite frequently. It is considered their 'ciao.'"
"Hey, how are your parents doin'? I can't wait to throw them off a fucking balcony!" he offered as an example, later marveling at the fact that "the guy threatening to hurl a New York 1 reporter off a balcony is not a thug in a Batman film but someone we elected to Congress."
But what's even more upsetting than Mr. Grimm's general behavior, said Mr. Stewart, was his target: NY1 reporter Michael Scotto.
"New York 1! New York 1 is the pulse of our city, from the latest theater openings to the latest subway closings, to them literally just sitting there reading you the paper. They read it to you! Like you're a little baaaaaby. New York 1 is always there for us. It's the channel my cable box reboots to," the host reflected. "If it wasn't for the greatness of New York 1, we could have canceled our Time Warner subscription a long time ago."
Watch below. (The segment begins at about 5 minutes in.)