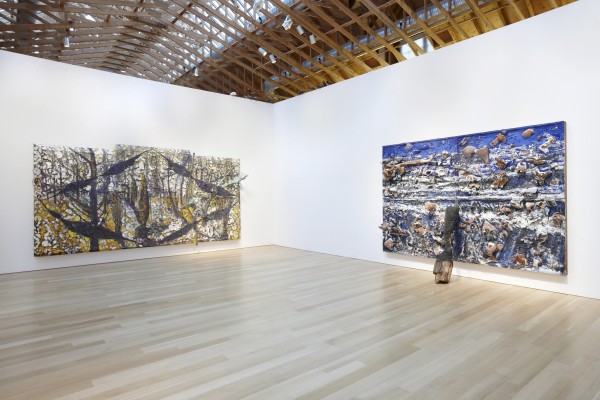 Julian Schnabel, the enfant terrible of 1980s art, and also that decade's Icarus, now has a survey not at MOCA Los Angeles, as his buddy-fan Jeffrey Deitch had originally planned it, but at the sylvan estate of his buddy-collector Peter Brant. The exhibition is by turns enervating, baffling and strangely impressive.
Where to begin? A sculptor, film director, painter, furniture designer and interior decorator, Mr. Schnabel contains multitudes. His zest for overblown painting, rivaled only by his overblown pronouncements ("I'm the closest thing to Picasso that you'll see in this fucking life"), made him the easy-to-whip whipping boy for so much of '80s excess. His art oozes ambition and unrepentant machismo, as filtered through an addled, insatiable passion for European culture. One 1990 painting, a wave of pink frosting cascading across a tan ground, is a full 22 by 22 feet. (That's 484 square feet of art.) A comparatively humble 11-by-12-foot painting from 1987 on a brown tarp spells out Pope Pius IX (the longest-serving pontiff) in tall, thin, white letters. If the sexual energy was not running high enough already, there's also a gold bed that he designed (complete with artfully ripped sheet) for his West Village home and rental property, the gloriously iconoclastic and garish Palazzo Chupi.
You immediately understand how, coming of age in the late 1970s, Mr. Schnabel managed to enchant and enrage in equal measure. After years of visual austerity—so much advanced art focusing on deadpan text, photos, concepts—his coming-out-swinging paintings, laden with broken crockery and pottery, made a splash. Five are here. These are undeniably captivating artworks, churning with psychological energy, crashing waves and lurid forests, ferrying along strange stories in their rudimentary figurative marks. If you didn't know Mr. Schnabel, who can be his own worst enemy, made these, you might assume they're the work of a folk bricoleur. They'd look great next to paintings by Thornton Dial.
By contrast, Mr. Schnabel's ongoing series of crockery portraits are bland—the sort of kitsch you'd pick up at a crafts shop in Austin. The women especially (Mr. Brant's wife, the model Stephanie Seymour, Mr. Schnabel's wife, the model May Anderson and so forth) all end up looking like roughly the same waif with different dye jobs.
And yet, even though hits (a new hunk of seafoam Styrofoam festooned with a feather that would look comfortably at home in the studio of a fast-breaking twentysomething) are far outnumbered here by misses (scarily scratchy efforts on paper, pointless sculptures, one adored with what looks like bird shit), and even though Mr. Schnabel is justifiably lampooned for eagerly feeding the market's mad hunger for grandiosity, you have to admire his energy and that early-career stretch when he could deliver wallops. It has become clear that history was not on his side, but in some alternate art universe, Mr. Schnabel is king. It's an exciting place to visit, but you wouldn't want to live there.
(Through mid-March, 2014)