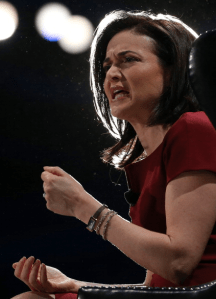 Good news for everyone who never got around to reading Lean In: there's going to be a movie version.
Days after Sheryl Sandberg officially became one of the world's youngest female billionaires, Deadline has reported that Sony Pictures has made a "preemptive acquisition of film rights" for the Facebook COO's best-selling book.
Here's what you can apparently expect from the film, whose script will be in the hands of TV writer/director Nell Scovell:
The film is not a biography of Sandberg; rather, Scovell will hatch a narrative film from the themes contained within the book.
In other words, it'll be exactly like What to Expect When You're Expecting or He's Just Not That Into You, or any other self help book-turned-movie featuring an ensemble cast of likeable female actors and a fairly lackluster storyline.
It'll be interesting to see how Ms. Sandberg's rather feminist book, which addresses gender inequality in the workplace, will fare against Hollywood's claws. Will we get a truly independent female protagonist who's—gasp—a-okay with being career-focused, or will it just be another Katherine Heigl romantic comedy about a cold, hard, workaholic bitch who only finds success once she softens up and lets a man's love into her life? We'll have to wait and see.