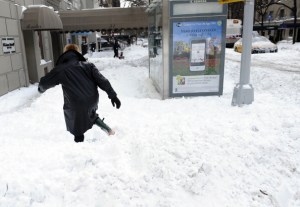 Don't we have enough of the real stuff to go around?
Never enough, according to Winter Jam. The event, planned for this Saturday, transforms Central Park into a snowfield for snowboarding lessons, cross country skiing, sledding, and snowshoeing.
Several snow machines were set up early yesterday and continued to spray Central Park with artificial snow as very legitimate snow began to blanket the Big Apple.
Curious passersby saw only a sign that read "Snow Making in Progress for Winter Jam." The machines were operational throughout the entire day, delivering some artificial goodness on the Central Park slopes.
Central Park is being transformed into a giant slope. Learn how to ski this weekend! #winterjam #NYC pic.twitter.com/hZDXe0Cci8

— Consulate Denmark NY (@DenmarkinNY) January 21, 2014
Not one to be outdone, Mother Nature decided to do a little "snow making" of her own, unleashing Winter Storm Janus on the city and dropping more than a foot of the powdery white stuff in the process.
"The grooming equipment we have coming in to create the snowfield at Winter Jam requires a large amount of snow, so in addition to the natural snow we're getting this week we've decided to continue blowing snow," Winter Jam spokesperson Meghan Lalor said.
We just hope that the organizers behind Winter Jam keep in mind for next time that like a lot of things in life, there's snow time like the present.