Eating eggplant cabonata and balsamic caviar off of Elizabeth Taylor's face may sound like the disturbingly specific fantasy of an extra on the set of Cleopatra, but it was merely typical at a reception Tuesday night for artist Izhar Patkin. Guests exploring the vast East Village complex of colorful rooms and courtyards he calls home nibbled Italian fare off plates Mr. Patkin purchased for $2 a pop and painted with the faces of famous Jews. (Taylor converted at the age of 27.) 
Everything in his Aladdin's Cave of a residence bears Mr. Patkin's touch, from the bright, biomorphic chandeliers to the painted pianos to the strings of lights festooning the verdant central courtyard. Though Mr. Patkin's work also encompasses enormous glass and aluminum sculptures, he is primarily known for his painted, gauzy fabric pieces. These constitute much of "Izhar Patkin: The Wandering Veil," a massive survey of his career currently on view at the Massachusetts Museum of Contemporary Art in North Adams.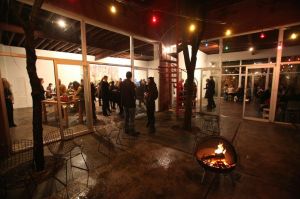 "He treated the space differently than any previous artist," said Mass MoCA Director Joseph Thompson. "Izhar has blocked views, created a labyrinth…It's very disorienting. I know this space very, very well and he took that all way from me." At the end of the show, viewers get to gaze down at the maze of veils from above. "There's this sort of eureka moment where you see how it's all been staged," Mr. Thompson said.  
The exhibition, which is on view through Sept. 1, started in Mr. Patkin's native Israel at the Tel Aviv Museum of Art. There, it opened with a portrait of his uncle, his namesake, who was killed in the military. Adapting the show to North Adams, where the image would not have the same resonance with viewers, Mr. Patkin practically reversed the order of the exhibition, telling a different story. "You're always coming into the work from the back, like a musician's stage door," he said.
In addition to Mr. Thompson, who was hosting the reception along with David A. Ross, the chair of the MFA Art Practice program at the School of Visual Arts, and Artis founder Rivka Saker, the crowd included actor Alan Cumming, Guggenheim Deputy Director Ari Wiseman, dealer Nicole Klagsburn, artist Jon Kessler and Dia Foundation Director Philippe Vergne. They perched on cheerfully painted stools, sipping wine out of small Moroccan tea glasses and devouring a meal made by none other than Mario Batali, a friend of Mr. Patkin. (The artist hosted a party for the catering company Mr. Batali runs with Mary Giuliani.) 
While fond of Italian fare, Mr. Patkin said he prefers food from his native Israel. One has to know the right places to find it, though. "There's the hummus place on 8th Street," said Mr. Patkin. "I'm kind of a hummus snob." 
Mr. Patkin's pets also appear to possess fine palates. As he spoke, a black cat gobbled a piece of fallen prosciutto up off the floor.