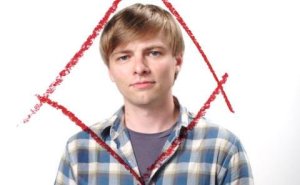 Nick Carr is no stranger to finding beauty in the background. As a movie location scout to the stars for the past five years, Mr. Carr has seen just about every Big Apple backdrop there is.
But Mr. Carr has decided to step into the spotlight for the first time in his career. On his beloved blog, on which he goes by the name Scout, Mr. Carr is asking for donations to make a movie of his own.
And thanks to the magic of the Interwebs, that movie is only $3,600 away from its $30,000 goal.
"If you think I do a good job with my site, all I can say is that I've been working a thousand times as hard on my movie," Mr. Carr wrote on his website, ScoutingNY.com. "And literally every penny will help make it a reality."
What advantage does Scout have, besides 10,676 loyal followers? For starters, his time as a location scout has brought him to almost every nook and cranny New York has to offer. He has told Spider-Man the perfect building to swing from, the Smurfs which subway to ride and even suggested the ideal desk to snort coke off to The Wolf of Wall Street's Jordan Belfort.
"Every street has a hidden gem or two, and yet they go largely ignored by thousands of passersby daily who simply don't have the time to pay attention," Mr. Carr blogged.
But paying attention is all Mr. Carr has been doing for five years, and now the abandoned subway tunnels and high-rise penthouses he has kept hidden in his back pocket are the building blocks for this film.
While Mr. Carr wears his love for the city that never sleeps on his sleeve, he isn't quite so loose-lipped on the details of the movie. When it comes to specifics, Mr. Carr has delved into his production assistant background and allowed no access to the public.
The only clues we can divulge come from his love for the most famous of New York movie scenes. His favorite, according to an interview with Gothamist, is the ending scene of Ghostbusters, "when Winston Zeddemore, covered in marshmallow, throws up his hands and exclaims 'I love this town!'"
We can relate, and not just because we are often covered in marshmallow. We can't help but feel like Mr. Carr, in all his wanderings, has had a similar moment. This movie looks to be his chance to show it.
And if nothing else, we expect the locations to be on point.