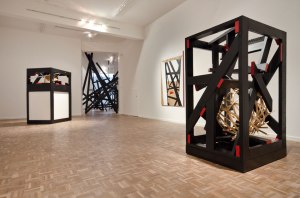 Marianne Boesky Gallery now represents Serge Alain Nitegeka, the South Africa-based artist of painting, sculpture and installations who was born in 1983 and also shows with Stevenson gallery.
Ms. Boesky said she'd read about Mr. Nitegeka, who has shown at the Palais de Tokyo, and set up a studio visit when traveling in South Africa last summer. "Rarely do I connect so viscerally with an artist and their work as immediately as I did with Serge," she wrote in an email.
Ms. Boesky plans to introduce Mr. Nitegeka to the United States with a solo booth at the Armory Show, one of his installations that, Ms. Boesky wrote, "physically bisect three-dimensional space and use the viewer as a further disruptive variable, resulting in a tableau vivant of sorts, with the individual as both viewer and performer." So be on the lookout for that!