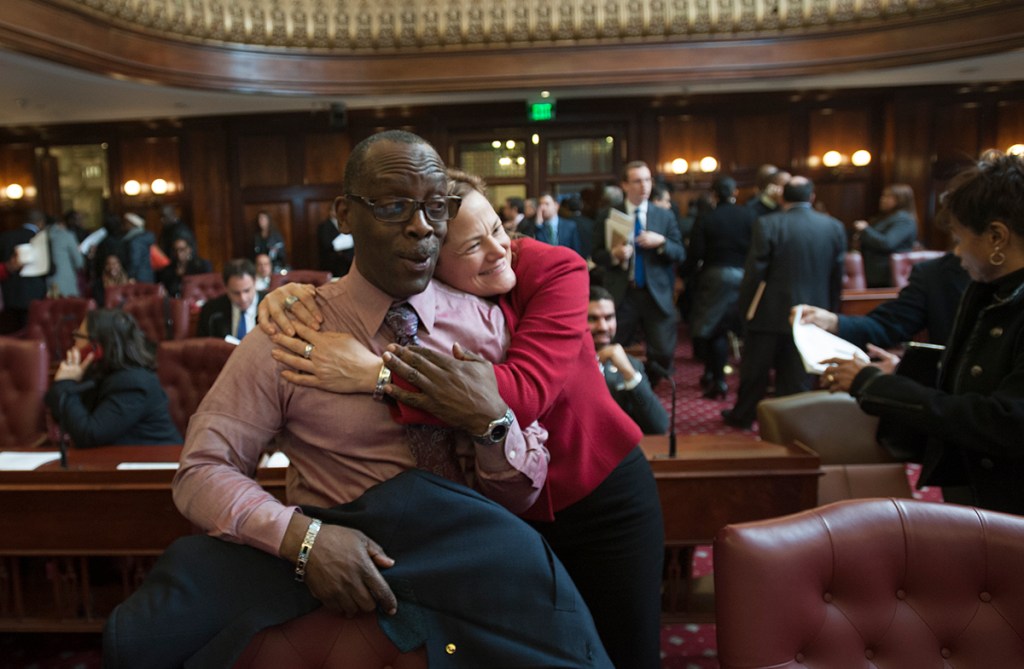 For the prescient and lucky council members who backed Council Speaker Melissa Mark-Viverito from the beginning, yesterday's committee assignments represented the dawn of a new era of influence. For those who battled Ms. Mark-Viverito to the anxious end, meanwhile, there were few plums to be had.
Though Ms. Mark-Viverito and her allies have claimed they want to usher in a new regime committed to good government principals and not the classic carrot-and-stick diplomacy that has long governed the council, yesterday showed that Ms. Mark-Viverito, like her predecessor Christine Quinn and endless pols before them, is more than happy to use influence to reward allies and punish dissenters.
Every single one of the original 30 council members who fell behind Ms. Mark-Viverito in December landed a committee chairmanship and a stipend that ranged from $8,000 to $25,000. And a new "leadership circle" of 10 council members–created to democratize how the council is governed–also happened to rope in six members who first supported Ms. Mark-Viverito in December. The large leadership team was crafted as an incentive and rewards system for the speaker's ideologically diverse and once-fragile coalition, sources said.
Ms. Mark-Viverito, however, denied the committee selection process was blatantly political.
"I think that when we have a body as extensive as this one is, there's a lot of issues and concerns that each and everyone has," she told reporters at a City Hall press conference after the assignments were announced. "Again, it's an inclusive body, I look forward to unifying this body."
Council sources described the actual doling out of committees as a somewhat chaotic experience for those that were not part of Ms. Mark-Viverito's inner circle. While some members, like Brooklyn's David Greenfield, more than likely knew which chairmanships to expect a month ago, others only found out where they stood late last night. Phone calls concerning committees came from a Mark-Viverito operative, Jon Paul Lupo, who Mayor Bill de Blasio recently hired, raising eyebrows for the council members still questioning the speaker's independence from the mayor. 
Even some of Ms. Mark-Viverito's closest allies continued to push for higher posts early yesterday; one council source said that Queens' Jimmy Van Bramer, who was eventually picked for majority leader, aggressively lobbied in recent days to lead the council's powerful finance committee.
Ms. Mark-Viverito eventually handed the committee–responsible for negotiating, along with the speaker, the $70 billion city budget with the mayor–to a top ally, Councilwoman Julissa Ferreras. Like Mr. Van Bramer, Ms. Ferreras bucked her Queens county organization to support Ms. Mark-Viverito early on. Councilman David Greenfield, a moderate who belonged to the Brooklyn coalition that helped broker a deal to elect Ms. Mark-Viverito speaker, scored the influential land use committee, where he will wield a pivotal rubber stamp over many major development projects.

All of Ms. Mark-Viverito's allies walked away with plums, even the least-senior members. The newly-elected Mark Treyger and Chaim Deutsch, who aren't aligned with the progressive caucus that bolstered Ms. Mark-Viverito, were assigned chairmanships created just for them: a Hurricane Sandy relief committee and a private school subcommittee, respectively. Ritchie Torres, who is just 25 years-old, will chair the public housing committee as a reward for being the only Bronx council member to defy his county organization and back Ms. Mark-Viverito early. Another freshman councilman, the Upper East Side's Ben Kallos will chair the committee on government operations, while freshman Carlos Menchaca, who represents an immigrant-heavy district based in Sunset Park, will chair the immigration committee. 
Meanwhile, some of the council members who loudly supported Ms. Mark-Viverito's rival, Dan Garodnick, found themselves without spoils. Councilwoman Annabel Palma, a fierce Garodnick surrogate, chairs no committee or subcommittee, which she blamed squarely yesterday on "retribution." The same is true of Councilman Rory Lancman, an ally of the Queens establishment that opposed Ms. Mark-Viverito. Councilman Andy King also walked away with nothing after he claimed that a labor union had threatened his wife's job if he didn't support Ms. Mark-Viverito.
Concessions were nevertheless made to the 20 members who originally opposed Ms. Mark-Viverito but wound up backing her in the end. Mr. Garodnick, along with Minority Leader Vincent Ignizio and one-time speaker candidate Jimmy Vacca, were included on Ms. Mark-Viverito's leadership team. And a Bronx county stalwart, Vanessa Gibson, was elevated to chair the public safety committee, a concession to a Bronx delegation that walked away with relatively few spoils.
"There had to be some retribution if only because they ran out of olive branches," one source close to the decision-making process explained. "You've only got so many lollipops. Eventually you've gotta make some tough decisions and its easier to make those decisions with people who were vocally against you."
Meanwhile top Mark-Viverito ally Brad Lander downplayed the significance of the choices.
"You can't take politics out of politics," he said. "What you can do is, take the politics out of the things that really impact the people in our neighborhoods and their ability not to be held hostage by politics."