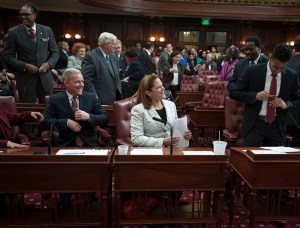 Council Speaker Melissa Mark-Viverito will preside over the first full meeting of her tenure tomorrow, doling out prized committee assignments to early backers while trying to appease those who fought her in the hours leading up to her election as speaker. 
Tomorrow's agenda, sources say, will be relatively light otherwise, with no major agenda items to discuss. Instead, the rules committee, chaired by Mark-Viverito ally Brad Lander, will meet at noon, before the full council meeting, to announce who will chair the council's various committees, subcommittees and task forces, which number more than 40.
Final decisions are expected to be made this afternoon and evening and those close to the discussions cautioned that assignments remain at least somewhat in flux.
"Melissa Mark-Viverito is handing out the lollipops today," one council source told Politicker of the backroom dealing.
Political observers are watching to see who Ms. Mark-Viverito appoints to the most influential committees in the council, including those involving land use and finance. The chair of the finance committee, responsible for negotiating the city's $70 billion budget with the mayor, will likely be Councilwoman Julissa Ferreras, a Queens lawmaker and Latina who bucked her county organization to support Ms. Mark-Viverito, insiders said. Fellow Queens progressive Jimmy Van Bramer is also a contender for the post.
The future chair of the land use committee, who wields a crucial rubber stamp on many large developments in the city, appears still to be Brooklyn Councilman David Greenfield, as Politicker first reported last month. Mr. Greenfield is a moderate and a close ally of Brooklyn Democratic Party Chairman Frank Seddio, who struck a deal with Ms. Mark-Viverito and Mayor Bill de Blasio to lock up the votes needed to elect the East Harlem lawmaker.
The chairs of the education and transportation committees, two posts that have less legislative clout but carry strong bully pulpits, will likely be handed out to Queens Councilman Danny Dromm and Manhattan Councilman Ydanis Rodriguez respectively, sources said. Both are members of the left-leaning Progressive Caucus that fell behind Ms. Mark-Viverito and were vocal allies throughout the race. Mr. Dromm is a former public school teacher and Mr. Rodriguez has long taken an interest in transportation issues, including the "Vision Zero" proposal now championed by Mr. de Blasio.
Spoils for Ms. Mark-Viverito's backers, originally numbering 30 before the council unanimously elected her on January 8, may also come in a 10 member "leadership circle" that will upend how the council is traditionally run. Details are not yet clear, but the proposed circle, as described to Politicker, would allow for a more democratic, less hierarchical form of governance favored by many progressives. The leadership circle could serve as a vehicle to reward early backers of Ms. Mark-Viverito who won't be given top committee chairmanships. Council members like Vinnie Gentile, a senior member who chaired a subcommittee previously, will be in line to join the circle, sources said.
Other committee assignments, particularly for members who backed Ms. Mark-Viverito's chief rival Dan Garodnick, are still being hammered out. And some involved in the process have complained that they still do not know their committee assignments less than 24 hours before they're set to be announced, giving those who are unhappy little time to discuss their potential grievances with the new speaker.
"There is frustration among members on both sides that they are not being included on this process," said a source originally unaligned with Ms. Mark-Viverito. "It's very different from previous models in which there were at least some gestures to make you feel involved."
Ms. Mark-Viverito did not immediately return a request for comment.