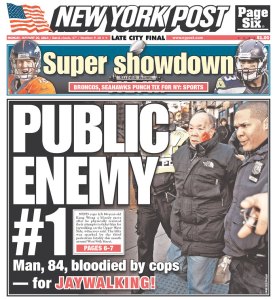 Mayor Bill de Blasio declined to weigh in today on the case of an 84-year-old pedestrian who was reportedly beaten by cops who had been trying to give him a ticket for jaywalking at an Upper West Side intersection that has seen three fatalities in recent weeks.
But, while insisting there is no citywide jaywalking crackdown, Mr. de Blasio defended the right of individual precinct commanders to focus on the issue.
"There is no larger policy in terms of jaywalking, and ticketing and jaywalking. That's not part of our plan. But it is something a local precinct commander can act on, if they perceive there to be a real danger," he told reporters this afternoon, after speaking at Rev. Al Sharpton's annual National Action Network Martin Luther King Day event.
Mr. de Blasio went on to agree that many New Yorkers feel like jaywalking is an unalienable way of life and that he would focus on education and other changes to try to warn of the dangers.
"Look, we do need to do more education, and we need to be sensitive to the fact that we do have a way of life, and many of us who've been here know that. But we have to educate people to the dangers. There's a lot more vehicles in this town than there used to be. That's something people need to recognize, and education's a part of the solution, more enforcement is a part of the solution, changing the speed limits, obviously the speed cameras," he said. "All of this adds up."
The incident involving 84-year-old Kang Wong happened at the intersection of 96th and Broadway, where police were staging a crackdown on the usually ignored crime of jaywalking following a spate of pedestrian deaths, including one just hours earlier nearby.
Mr. de Blasio vowed last week to crack down on traffic fatalities, which claimed the lives of 286 New Yorkers last year—just shy of the year's 333 homicides. He doubled down on that theme today.
"Look, on the question of safety for our pedestrians and our bicyclists, I said the other day, it's an epidemic we're facing," he said. "This is now a problem that is almost reaching, in terms of numbers, the level of our murder rate. And so we have to address it. We are moving very aggressively in terms of new enforcement measures."
As for Mr. Wong, Mr. de Blasio said, "I'm waiting for all the facts, and I haven't gotten all the facts on the case, so I'm not going to comment on something until I have a better sense of it."
"Obviously, I wish him a speedy recovery," he added.