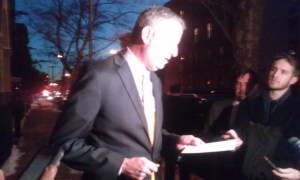 Mayor Bill de Blasio couldn't be more pleased that a small, single-engine plane landed on a Bronx expressway today without serious injuries or fatalities. 
Addressing reporters after an event in Brooklyn this evening, Mr. de Blasio praised the "amazing, amazing fact" that all three individuals involved were safe. 
"Obviously this is a developing situation but I spoke to Commissioner Bratton a short time ago and we have an extraordinary situation," he said. "Actually, a little bit of a miracle."
Mr. de Blasio provided the basic details of the event: The small plane departed from Connecticut, took a tour of the Statue of Liberty by air and experienced engine problems on the way back before making the emergency landing on the Major Deegan Expressway. 
"They made an emergency landing on the Major Deegan Expressway. I thought I'd seen everything in my life but an emergency landing on the Major Deegan Expressway–successfully–near exit 13 on the Deegan. The amazing, amazing fact is that the three individuals who were in the plane … are being treated for non-life-threatening injuries," he marveled.
Concluding his brief remarks, Mr. de Blasio also praised the city's emergency service operations.
"So a truly, extraordinary event. I thank God that all of the passengers landed safely and there were no other injuries caused by that landing. So that's what we know at that moment. It appears as if the situation is fully under control and all of our first responders handled it beautifully," he said, walking away without taking questions.